WOMEN'S SWEATER OPTIONS
1.) INC // HUNTER FOREST SIDE ZIP CARDIGAN // $49.99
If you are looking to add a good winter color to your wardrobe, add a dark forest green hue. This cardigan is far from frumpy! The side zipper detail and high low design create a very chic look.
OUTFIT IDEA: Pair it with a fitted black shirt and booties or rolled up jeans and sneakers.
2.) BANANA REPUBLIC // PRINT PULLOVER SWEATER // $89.50
This sporty pullover sweater will give your outfit a whole new look. Stop investing in the basic crew neck and bring style to your wardrobe with a completely new design. You'll love the anorak inspired cut with a drawstring hem and nylon pleated back.
OUTFIT IDEA: This is a colorful statement sweater, keep the bottom simple! A white jean or black legging and booties will do, perfect for the lady on the go.
3.) ANTHROPOLOGIE // TURTLENECK SWEATER // $98
The most flattering turtleneck you will try on this season! It's loose fit is comfy and doesn't hug you in all the wrong places. The tie front style makes this the perfect sweater to pair with your favorite winter skirts.
OUTFIT IDEA: Try it with a wool skirt, warm tights, and tall brown boots for a pulled together style.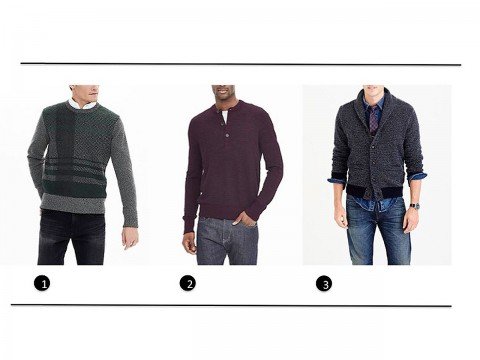 MEN'S SWEATER OPTIONS
1.) BANANA REPUBLIC // PLAID PULLOVER SWEATER // $98.50
Looking for a print that isn't overly flashy? The plaid is a classic go-to but this season it's all about the oversized plaid print. The gray sweater has a hint of green for a flash of color to your winter wardrobe.
OUTFIT IDEA: Try it with black jeans and grey suede boots.
2.) BANANA REPUBLIC // EXTRA FINE MERINO WOOL HENLEY // $79.50
Light weight and great for layering! It looks best when the buttons are undone to create the illusion of a v-neck cut. My top color choice is the cherry red, it's festive and a great addition to any wardrobe.
OUTFIT IDEA: This fine knit sweater is perfect under a blazer or light-weight jacket option.
3.) JCREW // SHAWL COLLAR CARDIGAN SWEATER // $148
If you've tried the cardigan look and haven't had much luck, I suggest you try it once again. This sweater has leather buttons and a very sophisticated look for winter. Enjoy it all season it long!
OUTFIT IDEA: The outfits you can create with this cardigan are endless, pair it with a black tee or white polka dot button up shirt.