Festivals are a phenomenon - a cult like love where loyal attendees purchase tickets to their favorite every year no matter how far the distance. People transform into whatever character they want to play, wearing tutu's, glitter, body paint - letting loose for a weekend of an unforgettable time. Below are just a few nationwide festivals that draw the biggest crowds and book the biggest acts.
Coachella
Weekend 1: April 15-17 / Weekend 2: April 22 - 24
Indio, California
Tickets: Sold Out / Independent Sellers Only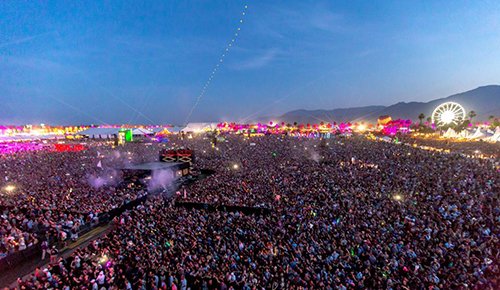 Beginning in 1999, Coachella is one of the premier festivals you must attend - if you can find tickets. In the last few years, Coachella has become so in demand that tickets sell out within minutes of going on sale - before the lineup is even announced. However, attendees know that the music lineup is always sure to please with multiple genres and surprises. Who can forget the historic moment when Tupac preformed from his grave? The hologram of the notorious rapper went viral and gained so much attention, people have wondered how will anything top that? I'm sure they will find a way. Beyond music, you can enjoy artists from all around the world. One featured artist, The Jive Joint, is an amazing side show act with live music, improv and comedy. You must not miss them. A few of this year's headliners include LCD Soundsystem, Guns N' Roses and Calvin Harris.
New Orleans Jazz & Heritage Festival
First Weekend: April 22 - April 24 / Second Weekend: April 28 - May 1
New Orleans, Louisiana
Tickets: $65 / per day in advance / $75 per day at gate
This is the perfect setting to experience some great music along with New Orleans food and culture. Starting in 1970, the New Orleans Jazz & Heritage Festival has grown from 350 attendees to almost half of a million this year. If you are a huge jazz fan than no doubt this is the best festival in the US to attend. However, if you aren't up for blues and smooth tunes don't be fooled by the name. There are all types of genres from hip-hop to alternative to rock to indie that is spread out through 14 stages. The lineup is insane with Stevie Wonder, Red Hot Chili Peppers, Beck, Nick Jonas, Ms. Lauryn Hill, Bonnie Raitt, and Flo Rida just to name only a few. However, one of the biggest headliners is what true Seattlelites crave to see - Pearl Jam playing Saturday, April 23 at 4:30. Besides the amazing music, you will experience NOLA culture and food, which makes the entire experience, priceless.
Summerfest
June 29-July 3, July 5-10
Milwaukee, Wisconsin
General admission per day: $20 / 11- day power pass: $80 / Additional fee for main stage acts
Summerfest is boldy stated as the "world's largest music festival" and rightfully deserved. The festival takes place over 11 days (with a break to celebrate the nation's birthday) across 11 stages with over 800 acts and close one million attendees. This year's lineup has yet to be annouced, but past headliners have included The Rolling Stones, Keith Urban, Kings of Leon, Stevie Wonder, Ed Sheeran and more. With the festival being located in Wisconsin, attendees can also look forward to some gluttonous food like huge homemade cream puffs and deep fried cheese curds to be down with a ice cold Wisconsin brew. I guess that is why they say Midwest does it best.
Oregon Country Fair
July 8th-10th
Veneta, Oregon
Tickets: $68 for 3 day pass / Single day: $24 - $33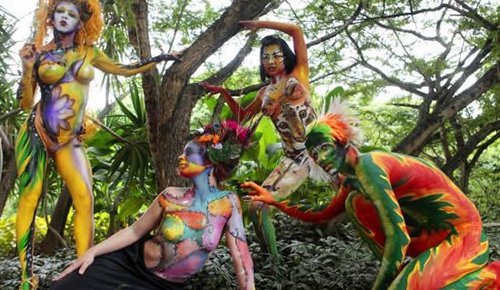 The Oregon Country Fair is not your average festival. The dry festival (aka no alcohol served) has been going on since 1969 and is spread out over three days on 280 wooded acres west of Eugene. The fair is for all ages featuring indie bands and independent artists, handmade crafts, foods, community based culture and even yoga. Expect to see outrageous characters walking through the forest, some that are part of the festival and some that are just attendees. One thing that makes the fair so much fun isn't the fair itself... it's the camping where in certain areas the festival continues all night long.
Outside Lands
August 5 - 7
San Francisco, California
Tickets have yet to be released
The Outside Lands Music and Arts Festival is a 3-day festival where California's Golden Gate Park turns into a celebration of music, food, wine, beer, art and comedy. Starting in 2008, the festival was created for the green movement - emphasizing on being eco-friendly and educating about attendees about the eco-friendly movements. They utilize solar power stages, a refillable water program, a waste diversion program, a recycling program, and bike valet parking program. Besides helping the planet and booking great acts, Outside Lands focuses on wine and food, which a dedicated portion of the festival is to the wine lands. This year's lineup has not been released but last year's headliners included Elton John, Kendrick Lamar and Odesza.
Burning Man
August 28th- September 5th
Black Rock City, Nevada
Tickets: $390 / $190 (for low income attendees)
It's not surprising if you hear someone say that Burning Man is on their bucket list of things they must do in their lifetime and crave to go back if they have attended. Burning Man began as a bonfire ritual on the summer solstice in 1986 where a 9-foot wooden man was burned as well as a smaller wooden dog that grew to 40 feet only two years later. The annual 9-day event is a community that is temporarily created in Black Rock Desert in Nevada where the "locals" barter and trade for items, food, drinks and whatever else. Last year there were 70,000 "residents" that took on the artistic self-expression and unique talents through creative mediums. Of course the ritual burning of a large wooden effigy ("the Man") occurs on the Saturday evening of the event.
If you are looking for some local festivals that are only a few hours from Seattle, make sure to check out our 2016 March/April People Issue and check out the local list!