photo credit: Jannoon028
I'm a baseboard-cleaning, hands-and-knees-scrubbing kind of gal, but that doesn't mean I don't accumulate dozens of hardly used spices and mentally suffer when I look under the sink at my disarrayed makeup/hair product/nail polish catch-all. Having a clean house is totally different than having a neat house – but I'm determined to have both. For optimal organization, check out these ideas and products that are sure to elevate your spring cleaning game.
1. Feeling Spicy
Pretty much everything has an expiration date, including spices. And it's harder to go through them if you keep buying cinnamon every time you decide to bake snickerdoodles. While spices don't "go bad" per se, they do lose their potency and won't flavor foods as well. Baking agents can also lose their leveling/rising effects. If you've had it for more than 4 years, toss it. Otherwise, invest in a Sagler lazy susan that can be installed in your cupboard so everything can be easily viewed and accessed.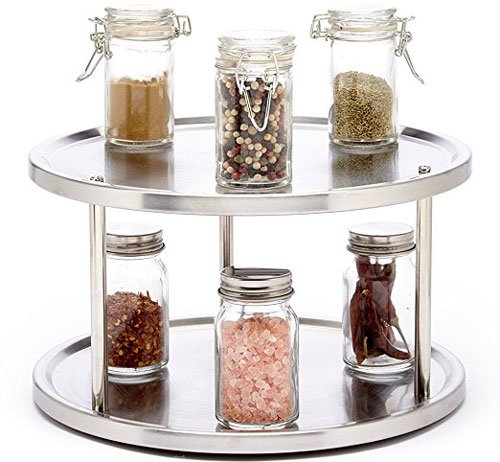 2. Beautiful Storage
Makeup bags are great for your everyday essentials, but if you like having multiple blushes, bronzers, shadows and lipsticks, it's better to get an actual organizing display case. This bestseller, Ikee Design, comes in different colors and designs, and makes finding your favorite lipstick so much easier.
3. Magnetic Pull
To keep everything off the countertop – or if you have limited space – think about creating a magnetic wall for storage. They actually have paint that has tiny specs of metal in it that works well for this, or attach a metal sheet to the wall with a couple screws. Mini magnets glued to the back of your makeup or spices will be a game changer.
4. Racking Up
Over-the-door storage/racks can be used for more than just coats. A shoe organizer is perfect for a cleaning closet, where you can fill each compartment with disinfectant sprays, cleaners, sponges and rags.
image via The 36th Avenue
5. Fold It Over
The space behind cabinet doors is also under-utilized and helps get those things typically under the sink up and off the ground. Similar to a paper towel holder, you can put trash bags on a rod for easy dispersal. Or attach a file holder to the back to store plastic wrap, aluminum foil, or loose lids from food containers. They even make a hair dryer holder that can also store straighteners and curling irons.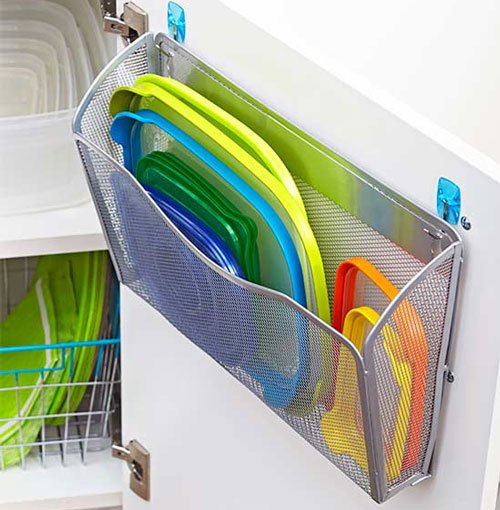 image via Better Homes & Gardens
6. Get Hooked
There should be a command hook appreciation day. There's so much you can do with these! Use these to keep baking utensils from becoming buried in your junk drawer by placing them on the backs of cabinet doors or cupboards, or use these to grip cleaners and keep the area under the sink tidier.
image via Two Twenty One
7. Between the Lines
Pots and pans can be hard to store because of their bulkiness and varying sizes, so instead of stacking them (and potentially scratching the non-stick coating), use a divider for best organization.
8. Release the Tension
Tension rods are a great tool to help create better organization in your home. They can serve tons of different purposes - use them as drawer dividers, place them under the sink to hold cleaners, or put them in a closet to keep wrapping paper and ribbon in place.
image via Montana Prairie Trails
9. Benched
The entryway is one of the places that gets most cluttered with shoes, coats, umbrellas, purses and everything in between. And while most storage items are relatively inexpensive, sometimes it pays to invest in an additional furniture piece to keep things organized. By having a dedicated space, it's much easier to keep coats and shoes from spreading throughout the house or thrown on top of each other at the front door. This entryway bench has a spot for it all.
10. Pup Patrol
I didn't forget man's best friend. This IRIS Large Elevated Feeder makes feeding Fido so easy – and keeps you from having a huge bag of dog food sitting in the garage or pantry. An added bonus: the raised feeder is actually better for your pup's neck and back, plus keeps water sloppiness to a minimum.