Thanksgiving weekend has come to a close, officially declaring the start of the holiday season! For an easy and stress free dinner party season, I'm breaking down the meat and potatoes of your holiday event…the table setting. As creatures of habit, yearly, we succumb to the same decorations, color palette and dishes; this year I'm challenging you to try something unique, eclectic, and dare I say…trendy?
Spice things up this year by adding dramatic and unique winter trends to your traditional seasonal décor, such as: faux fur, sparkle, natural elements, raw wood, and a less is more approach. Add warmth to your living room by using faux fur throws on your leather armchairs. Add dramatic touches by using silver glitter candles or shiny animal figurines on your coffee table. These holiday trends can easily translate into your traditional table setting décor as well.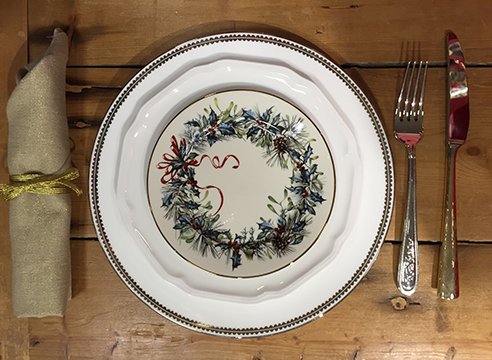 Take these tips and toast to holiday cheer:
• Color Palette: Greens (sage, evergreen), white, cream, brown, mixed metals, pops of deep red.
• Plates: Option 1: White on white. Want a bit more drama and sparkle? Option 2: Layer gold and white plates, or layer rose gold trimmed plates with plain white ones.
• Cutlery: When in doubt, go for an eclectic look. Use an assortment of metals and flatware patterns in a single place setting. Wrap flatware and napkin with a red satin ribbon and add a sprig of rosemary for texture.
• Linens: Ditch the tablecloth and showcase your beautiful wood table instead. If desired, add a white or cream table runner down the center for added warmth. Use green or white linen napkins for color and elegance.
• Centerpiece: Have an assortment of cream pillar candles lining the center of the table. Nestle them in evergreen branches, sage and rosemary sprigs. Sprinkle in cinnamon sticks for added aroma and tinsel strands for sparkle. If you're wary of candles with children, enclose them in rustic lanterns or float tea candles in water and cranberries.
• Lighting: There is no better ambiance than a crackling fireplace in the background. Use candles and dimmer lighting throughout your space for added warmth and intimacy.