The Nordstrom Designer Preview Show was decadent and full of fashion savvy individuals excited about the new treasures for Fall 2016. As I drove up to the building along the Pier, I was quickly greeted by the valet and escorted into shopping heaven.
High end designer samples were strategically placed throughout the building with racks of collection coordinated pieces, accessories matched by color on shelves, and fitting rooms to one end with sales associates ready to take orders. The market-like food carts with Asian themed hors d'oeuvres were delightful, there was enough time to grab a bite to eat and peruse through the collections.
(photo credit: Nordstrom)
I arrived promptly at 6 pm to have a good hour and a half of familiar faces greetings in the industry and discussing the biggest fall trends before the fashion show. There were designer pieces that left me breathless with the extravagant detailing, the stitching, the layering, the vibrant colors, and the purity of each new pattern. As a personal shopper, I live for the moments of being immersed in ground breaking fashion events surrounded by beautiful clothing.
When the show started the audience quickly jotted down notes on their favorite outfits that went down the runway, seeing the movement of the garments brought them to life in a new way and here are a few of mine.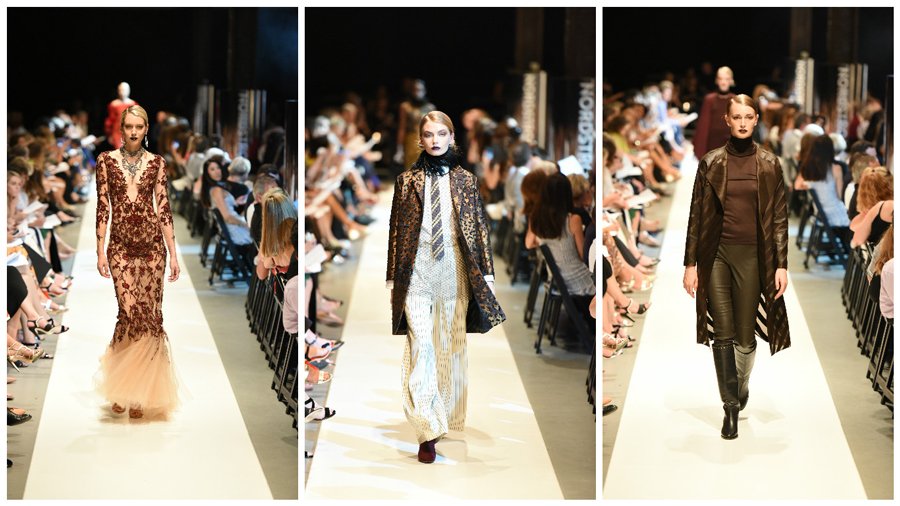 (photo credit: Nordstrom)
Marchesa on the left, I took at least five photos of this dress, I couldn't take my eyes off the bright red floral design against the nude mesh. Dries Van Noten in the middle, really intrigued me. The menswear inspired look is something that has been on trend season to season and it's constantly growing. Akris to the right is a head to toe brown outfit. This neutral is coming back to the forefront again.
Daniela Villegas jewelry designs quickly caught my eye. Every piece is one-of-a-kind and inspired by nature. To the left you will see a ring, the skeleton of a Toucan and the photo to the right is an ear crawler with a beetle and insect wing.
Look at the intricate applique to the gowns; it was difficult not to want to try everything on.
There were sets of shoes with coordinating bags with a lot of color and a good balance of shoes of comfort with luxury.
After seeing only a preview of what Nordstrom will be offering this fall, I can't wait to do some shopping and show off the trends.