Get to know some the artists that performed at Capitol Hill Block Party 2016!
Brother from Another l Israel Nash l Maiah Manser l Odesza l On an On l Tangerine
Brothers From Another
Seattle Hip Hop group Brothers from Another is Beeba, Cole and Isaiah. They weren't performing at Capitol Hill Block Party, just enjoying the festivities.
CM: What do you guys think about a festival like CHBP smack dab in the middle of Seattle?
Beeba: It's f**kin' dope. It's put on by local people, it's run by local people. A lot of our friends run this festival. It's for the people, by the people.
Cole: And I get to wake up in my own bed tomorrow, f**k yeah.
CM: Oh yeah no waking up at the Gorge?
Cole: Yeah I'm like a 5 minute Uber, I'm good.
Beeba: It's amazing to have big national acts come play in what we feel is the neighborhood we own. We don't of course, but as Seattle artists who grew up on Capitol Hill we feel some ownership over it. It's dope to have major artists come through our little Capitol Hill, you know?
CM: What about you, my man?
Isaiah: They nailed it. Major vibes, it's really good stuff.
CM: What's one artist you each are really excited to see?
Isaiah: I'm really excited to see Washed Out, very heavy. And I'm going to tell you why.
CM: Tell me.
Isaiah: Are you interested? You've watched Portlandia right? They do the f**king theme song. That's all I need to see, then I'm good. I'll go home for the rest of the year after I hear that.
CM: Feel it all around baby.
Isaiah: Yeah, all around.
Beeba: I'm super hyped to see GoldLink tomorrow. Then obviously Odesza. I'm mad I was working during The Dip, those are the homies. And Sango rocked that sh*t.
Cole: Yeah, Sango was dope. MØ is later today, she is f**king awesome.
Beeba: She does do a spice girls' cover and spice girls is my sh*t.
CM: Who doesn't love the Spice Girls?
Beeba: If you wanna be my lover you gotta get with my friends.
Isaiah: I am a Spice Girl.
Israel Nash
(photo by: Caroline Ruffault)
Israel Nash is a country psychedelic rock band from Dripping Springs, Texas. The band consists of Israel Nash, Josh Fleischmann, Joey McClellan, Aaron McClellan and Eric Swanson. They played mainstage on Saturday at 3:30.
CM: Have you ever been to a festival like this before, where people are just partying in the streets? And are you guys enjoying the CHBP vibe?
Joey: We've done festivals like this but not as cool, where you're in the street but it's not as cool as this.
Aaron: It's a super cool street.
Eric: And it smells lovely.
Aaron: It smells like Amsterdam.
Israel: We like Seattle a lot and been able to come here a lot. We're all having a vacation so all our girlfriends and wives are here. We're having a good time.
CM: How are you planning on spending the rest of your time here at CHBP and Seattle in general?
Josh: I'm hoping to see Car Seat Headrest. We were just talking about that. We want to go see them in a while.
Israel: Yeah, what does everybody want to do? We have a couple more days here.
Joey: We want to see Thunderpussy but they are playing right now…
Israel: What else are you going to do though in the next few days, I mean Joey has already been climbing mountains.
Joey: I want to go to the Twin Peaks diner I'm sure you've already done that already.
Israel: Like the restaurant?
CM: Oh yeah, I believe they have that in the area.
Joey: No haha I think it's a drive, about 45 minutes or something. Josh would know.
Josh: Yeah I don't know exactly where but it's from the TV show Twin Peaks.
Joey: Not the restaurant, the restaurant is a totally different thing.
Aaron: It is not associated with that place at all, Twin Peaks restaurant. But Twin Peaks the television show though, the new season directed by David Lynch. We would love to have our music in his show.
Joey: If he wants to hang out…
Aaron: We're huge fans.
CM: Ok last question and then we can run over to Thunderpussy. What kind of music are you listening to these days?
Eric: I like Riley Walker, Steve Gun.
Joey: Kurt Vile.
Aaron: Car Seat Headrest.
Josh: Thao and The Get Down Stay Down, that's a great band.
Israel: I've been rediscovering The Beatles. There was a time that I listened to them so much and it was kind of like The Rolling Stones and I love what The Rolling Stones do, don't get me wrong. So for the first time in like 10 years I've been listening to the intricacies and being blown away. So that's original as hell. It's good to revisit music, that's my point.
Joey: I actually don't listen to music.
CM: Oh yeah?
Eric: Oh, Thee Oh Sees. That's my other favorite jam right now.
Josh: I've been listening to this band called The Fieros, I don't know if you've ever heard of them. But they are one of my favorite bands.
*The Fieros is another band Josh and Aaron are in, which at the time I didn't know. They boys seemed to be having some fun with me*
Joey: They are actually a really cool band. He's not joking. It sounds like he's joking but he's not. This man does not know how make a joke.
Israel: He tried it once and didn't like it.
Maiah Manser
Maiah moved to Seattle 5 years ago. She is a solo singer but has also collaborated with a lot of different artists. She is playing Bumbershoot next and recently finished up her EP, Second Skin. She played mainstage on Sunday at 2:30.
CM: Have you performed at Block Party before?
Maiah: Yes I have, I performed with two other acts like last year, The Esoterics and Zoolab. I also performed this year with Zoolab at Neumos, it was super fun.
CM: Is there an artist that stands out from the last time you attended CHBP and were really excited to see?
Maiah: Oh my god…Father John Misty last year was amazing.
CM: Oh yeah, he is playing Bumbershoot too!
Maiah: Yeah he is, I'm going to try and see him again for sure. And then Tame Impala is at Bumbershoot as well.
CM: Oh my god, I know. I am actually going to see them two weekends in a row, at Project Pabst in Portland and then at Bumbershoot. I can't wait.
Maiah: Just going to sing along to every song.
CM: Yeah, exactly.
(Maiah breaks into song and I join her in briefly singing Tame Impala's " Cause I'm a Man")
CM: That is just such great stuff. Did you see Washed Out?
Maiah: I did see a little of Washed Out. I had to perform kind of immediately after them at Neumos because I was singing with Zoolab then but that was super rad. The colors and the stage set up was super great.
CM: How are you planning on spending the rest of your time at CHBP?
Maiah: I know a lot of people in the city and I run into a lot of my friends. Basically, I can see them all at once because sometimes my schedule gets really busy and I don't get to see them all the time so it's really wonderful to hang out with them and see all of the great music that's playing, it's really amazing.
CM: I heard you are really into fashion, would you tell me a little about this dress?
Maiah: I hooked up with local designer, BZR. I just saw one of her new releases that she hasn't even released yet for sale but I saw a picture of it and I was like hey "do you want to link up for this performance? It would be so great and I think it would work really well" and she was like "uh, yeah!" So she kind of outfitted me and gave me the choker. It was super great. I just love fashion and really care about the fashion realm of the world. I love hooking up with local artists in general, on all levels, visual, dance, everything.
CM: Does that happen a lot where you reach out to someone and they dress you from head to toe?
Maiah: Does it happen a lot? I think it depends on the performance and what not but most of my friends are artist types. So maybe they just made a new clothing line or something so I'm like "hey! That looks awesome. Can I wear that on stage?" Elbow nudge nudge, you know?
CM: Well yeah, because who is really going to say "No, you can't rep my stuff when you're on stage!"
Maiah: Totally. I love the whole community. That's the thing about Seattle. As the tech industry grows I think that we as artists all really have to stick together and stay a part of our scene and be connected with everything.
CM: I dig that. Ok, last question. You played CHBP then you are playing Bumbershoot. What is next after that?
Maiah: I'll be releasing a single from my EP come September called Second Skin and that's also the name of the EP. So releasing the first single in September and it will sort of be an unlocking process. Each track will be unlocked and I'm very excited. I've been working on it for like a year and a half. I'm a perfectionist.
Odesza
Odesza is based out of Seattle and consists of Clayton Knight and Harrison Mills. In only a few years Odesza has become one of the biggest names in music and are continuing to push their sound in new directions. They played mainstage on Saturday at 10:30.
CM: Your latest Red Rocks concert used a lot of live string instruments and I heard on the radio your block party show will be the same. Will this become a regular staple of Odesza shows?
Harrison: The show is always developing and because of that it's hard to say. We're trying to turn our show into a larger than life experience and because of that we're always experimenting with new elements. After our next album, we'll start building the show from scratch again which in a lot of ways entirely different beast then the music itself.
CM: Is there any artist playing block party you are trying to see or is it right back to touring after your show is done?
Harrison: Tourist and Big Wild! Big wild is on our label Foreign Family Collective and he'll be playing some new tunes and Tourist is someone I've more recently gotten into.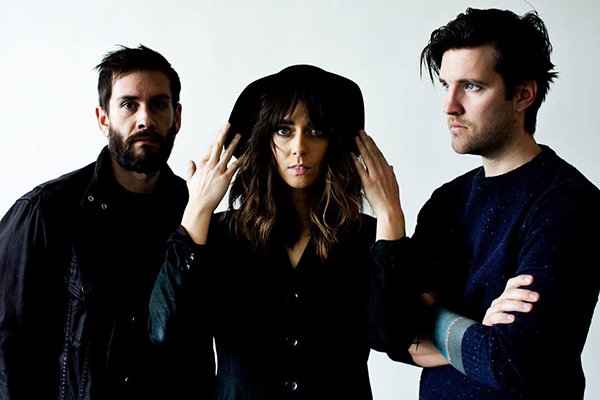 ON AN ON
ON AN ON is an experimental indie pop band from Minneapolis. Their second album, And The Wave Has Two Sides was released in July of 2015. They performed at the Vera Stage Saturday at 7:15.
CM: What do you like most about the atmosphere of CHBP?
ON AN ON: After getting a sense of the lineup it looks like there are a lot of under the radar / up and coming acts which feels good to be a part of. I also like that a lot of shows are in clubs like Neumos / Barboza and Cha Cha instead of only make shift stages.
CM: Is there a group here you are most excited to see or share the stage with?
ON AN ON: Clams Casino has always been a solid producer but we won't be able to see him since we have a show on that Sunday in Portland.
CM: How are you going to spend your time in Seattle?
ON AN ON: Because of the schedule of the fest and interviews I don't think we will have any real time to stick around Seattle this time around. It's a shame because it's a great city.
Tangerine
I saw Tangerine at Sasquatch and was very excited to see the local Seattle group again at CHBP. Their surfy rock sound is infectious and lots of fun. They playing Summer Camp at Marymoor on August 14th and at Chop Suey on September 23rd. Tangerine performed at the Vera Stage Saturday at 3:00.
CM: What have you all been doing since I saw you last at Sasquatch?
Miro: We've been working on some new music. And then getting ready for Block Party, Summer Camp and planning some future bills in Seattle.
CM: What do you girls think about the vibe of CHBP, just a big party in the middle of the street?
Marika: I just think of it as a part of Seattle. It's been happening since we were little kids here. It's changes with the years but it's always the party in the city
Miro: I remember coming here in high school, we'd all get on the bus and then there was a spot where everyone would break into block party (sorry). It used to be really crazy like that and a lot security is tighter now.
Marika: For a good reason.
Miro: It's just been a part of our upbringing.
CM: Is there a specific artist you are really excited to see?
Miro: I'm excited to see WAND because I've heard so much about them and they share members with Ty Segall and The Muggers, who we saw at Sasquatch.
Marika: And I think we might try and catch the end of Car Seat Headrest right now. I've been hearing lots of good stuff about him.