Want to dress like your favorite celebrities? There are quite a few that have recreated their personal style into ready-to-wear fashion you can purchase at department stores and online. Although there have been unsuccessful attempts by a few well known names, below are the top five that may surprise you.
Daily Tote $445 // Kenji Dress $365 // Bennett Sunglasses $185
What you didn't know
Mary-Kate and Ashley Olsen established their brand in 2007 but recently took back the reigns of their brand, Elizabeth and James from Jaya Apparel Group in February 2016. They want to expand on their vision for the company, to provide modern, effortless clothing for today's woman. They plan on continuing to grow it back up from scratch and opening actual storefronts throughout the U.S. Since taking back the line into their own again, fashion professionals have given their feedback and reviews on their designs saying that it is back to their cool, day-wear styles that fans love.
Why I love the brand
The simple design yet precision fit makes the pieces easy to wear. I love how you can throw on any one of these pieces and instantly look ready for the day. If you are a fashion savvy individual, you know Mary-Kate and Ashley Olsen will give you the style edge you need.
Where to buy
Neiman Marcus, Nordstrom, Saks, Revolve, Bloomingdale's, www.elizabethandjames.us
Avery Cami $158 // Desert Oasis Statement Pendant Necklace $108 // Jude Clutch $275
What you didn't know
House of Harlow started out as a jewelry line and launched in 2009 by Nicole Richie. The fan base grew and so did her brand, in 2014 she added clothing and other accessories to the mix to create a lifestyle brand. The importance of self-expression is evident in her collection because every piece has boho flair yet cohesive detailing that brings the piece to life. Nicole grew up in LA where she was surrounded by celebrities and costume designers, and she quickly turned to fashion as a way to identify and share her personality and mood.
Why I love the brand
There is nothing subtle about the designs in her collection. They are loud and make a statement, it's not your typical boho style. You find that her pieces are powerful and alluring.
Where to buy
Nordstrom, Bergdorf Goodmans, Nemain Marcus, Selfridges, www.houseofharlow1960.com
A-line Wrap Midi $3,185 // Supra Kitten Sunglasses $410 // Pleated Silk Georgette Gown $4,560
What you didn't know
This high end brand was launched in 2008 by Victoria Beckham aka Posh Spice. Although her career in music ended her personal style was admired by fans everywhere. Her designs reflected her personal style and began with form fitting dresses that were her signature style at the time. It has grown to a bold, refined, and strong collection for the sophisticated woman.
Why I love the brand
Victoria Beckham has always been my girl crush, and I've admired the beauty of every outfit and style shift throughout her career. Her collection represents her in-tune sense of fashion and powerful presence.
Where to buy
Barneys, FWRD, Harrods, Shopbop, Net-A-Porter, www.victoriabeckham.com/us
Print Mandarin Collar Swing Top $89 // Flutter Sleeve Floral Dress $129 // Tie Front Pants $98
What you didn't know
Created by Melissa McCarthy in 2016, this brand is all about making the shopping experience pleasant and enjoyable for women. Each piece she creates is inspired by some part of her life whether it's her children's drawings or from her travels abroad. Before even becoming an actress, Melissa McCarthy was sketching fashion designs and dreamed to one day become a fashion influencer. Now she can finally share her love of clothing with her fans. She believes that shopping should never make us feel bad about our bodies. The goal of her Seven7 line is to help women "lose the uniform" and discover their own personal style by encouraging ladies of all sizes to enjoy well made, stylish clothing.
Why I love the brand
When I shop for clients, it's hard to find on trend plus size clothing. Melissa's designs are catered to the stylish lady that isn't looking to hide behind her clothes, she designs for the confident woman ready to take on her goals. You will find colors, modern prints, and styles made to flatter
Where to buy
Nordstrom, Macy's, Amazon, and on her website: www.melissamccarthy.com.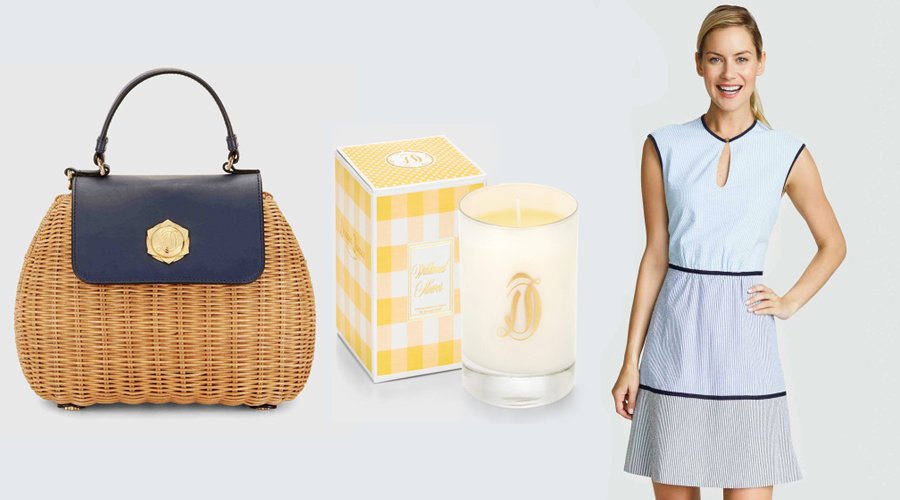 Overlook Bag $250 // Wildwood Flower Candle $42 // Sarabeth Seersucker Panel Dress $195
What you didn't know
Reese Witherspoon created Drape and James as a homage to her grandparents who taught her everything there is to know about class, lady-like style, and good manners. The clothing and home decor have a touch of Southern charm for the contemporary woman. More than 50% of the products are made in the United States, and that number continues to grow. The brand is about celebrating the importance of her family and hometown.
Why I love the brand
Lady-like styles that are welcoming, happy, and colorful. There is something very comforting about the clothing, it's familiar and timeless. The beauty of her collection is that you can create a cohesive life with her brand from clothing to home decor to accessories.
Where to buy
www.draperjames.com and their flagship store in Tenessee