When the temps rise and the Seattle beaches are packed, there is still plenty to do that will keep the summer cooler than ever.
Be Artsy
Artists have long been a little bit cooler than everyone else. Tap into your artsy self by embracing the summer's scene. Escape the sun by retreating to WAMU for the Seattle Art Fair, a cultural hub for Pacific Northwest art featuring large-scale outdoor sculpture at the North Plaza at CenturyLink Field by Jessica Jackson Hutchins. Hutchins incorporates stained glass frames into art inspired by the design of public rest spots, such as bus stops and park gazebos, to invoke a feeling of friction between mundane and transcendent. Don't miss local artists like Sean Barton featured by SEASON and Sherry Markovitz featured by Greg Kucera Gallery.
Photo: Gilley Wotan Woodside Braseth Gallery (Seattle Art Fair)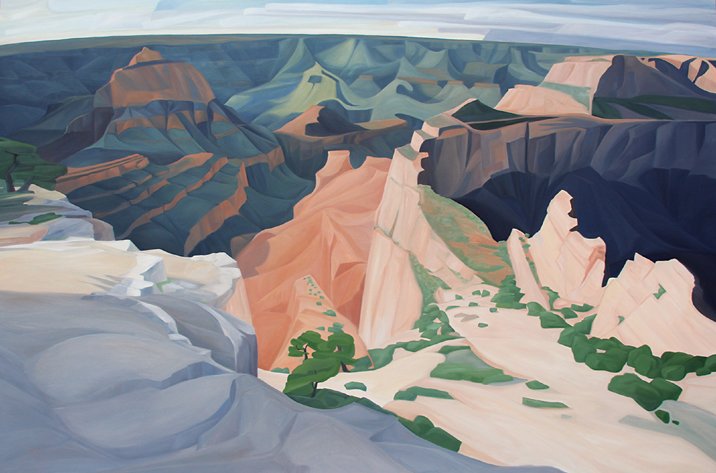 Lose the Oven
The bane of summer is a hot oven. Keep the house cooler by opting for no-cook, easy-to-prep recipes. My favorite for this time of year is a caprese salad. Since burrata is the best thing ever and fresh tomatoes are at their peak, you won't regret making some spin on caprese for savory breakfast, no fuss lunch, or quick weeknight dinner. Try this version from Bon Appetit but go with burrata and add prosciutto for something slightly heartier.
Stay Calm, Cool
Combine watersports and yoga and you'll be the chiller than a Netflix sesh. Wind down a hot summer day with a calming sunset flow on South Lake Union with popSUP or lull into relaxation on the shores of Green Lake with SUP Yoga. For different scenery WASUP in Ballard offers Flo-Yo, donating a portion of proceeds to Noel House programs and Yoga Behind Bars.
Live Aloha
If you're into a breezier island life, look no further than the Eastside (and various Farmer's Market locations). Wow Wow Hawaiian Lemonade has taken the summer by tropical storm serving up refreshing lemonade and acai bowls sourced from family owned and organic farms in Hawaii. The summer won't be complete until you try Mango Pineapple Lemonade and Da Kine Acai Bowl with organic acai, banana, blueberry, strawberry, and coconut milk. It gets topped with organic granola, cacao nibs, organic hemp, local honey, and cacao coconut custard.
See the Fountain of Youth
Remember being a kid during the summertime? Running through the sprinkler, begging for the coveted Slip N' Slide, lounging in the kiddie pool, and chasing the ice cream man's lingering sound of summer. Hello nostalgia. Dive into your past and live like you're a kid again. Skip the sprinkler and brave Seattle's International Fountain for an urban cool down. Or, dip your feet in a plastic pool. Make it adult only by mixing up a mimosa popsicle and putting a lawn chair in the deep end.
Sun-kissed Mimosa Popsicles
2 cups of the cheapest champagne
4 cups fresh squeezed lemonade (or just buy Newman's Own)
Optional: a splash of Orange Blossom Water
Mix and pour into high quality molds like these . Freeze for an hour, place popsicle sticks, then freeze for 6 hours or overnight.
Scream for Ice Cream
And treat yourself to some of Seattle's best flavors:
Fresh Mango & Glutinous Rice in Vanilla Shaved Ice from Fruit Bliss Cafe
Matcha Green Tea Mochi from the Whole Foods mochi bar
Ginger Golden Milk or Salty Caramel Ash from Frankie and Jo's
Cover Photo: Frankie and Jo's
Accept the Rosé
And finally, will the rosé craze ever end? Not in my world. But don't just settle with same ol'. Experiment with wine spritzers, punches, and even wine ice cubes. The lower ABV means you can drink all day which is way cooler than passing out early.
Best Rose Punch via DESIGN LOVE FEST
8 cups Barefoot rosé
Juice of 3 lemons
Juice of 2 grapefruits
2 cups lemonade
2 cups sparkling citrus water