Photo cover: Indian Designer Shriti Pratap elephant-inspired garment on model is Claudia Lorena, one of our Elephantasia's cover girls l photo by DeCarbon Azul by Eduardo Inclouds
Ninety-six elephants are killed a year for their ivory, at this rate they could be extinct within one to two decades - within our lifetime. Thanks to Elephantasia, there is hope in saving these gentle creatures. They have begun a 3 year movement to help raise money for the African Wildlife Foundation. This is made-up of a traveling art installation of art and independent designers that are elephant-inspired and offer eco-friendly clothing will be featured on the runways of Berlin, Cape Town, Copenhagen, London, and more.

Photo: Press Release printed on elephant poo paper photo by DeCarbon Azul by Eduardo
The African Wildlife Foundation is working on two major solutions to help decrease the amount of elephants killed through setting aside a natural habitat and space for elephants to roam freely and reproduce. It takes 22 months for them to carry their calves, their slow reproduction rate is not sufficient to surpass the raise in which they are being killed. The safe environments they establish with the funds also require programs to train community members on how to care for the mammals.
Ava J. Holmes, creative director for Elephantasia and founder of Fashion for Conservation is spreading important information about how as a society we can make a difference to save the planet. Her passion and drive behind every project involves bringing to light a wildlife problem that needs attention. Univision Seattle was there to cover the event and interview our hispanic community about our thoughts and goals on how to spread the word to more people.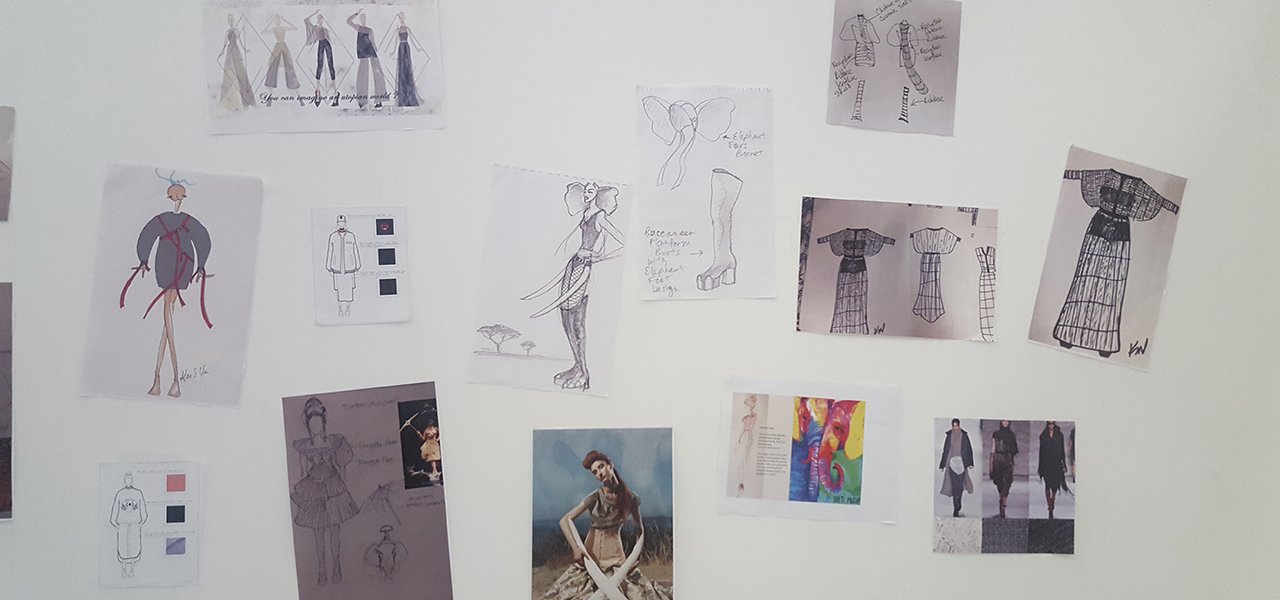 Photo: Elephant-inspired fashion sketches
Seattle celebrated Elephantasia's launch party in collaboration with Eco Fashion Week. The art themed setting included an art installation, 'Roaming Elephant' by Matt Shapira and models showcasing clothing on a stage in the middle of the room. This meet and greet was not your typical event, it was a small private setting that was informative and welcoming. Ava did a wonderful job of introducing everyone and making sure we all felt united in this movement.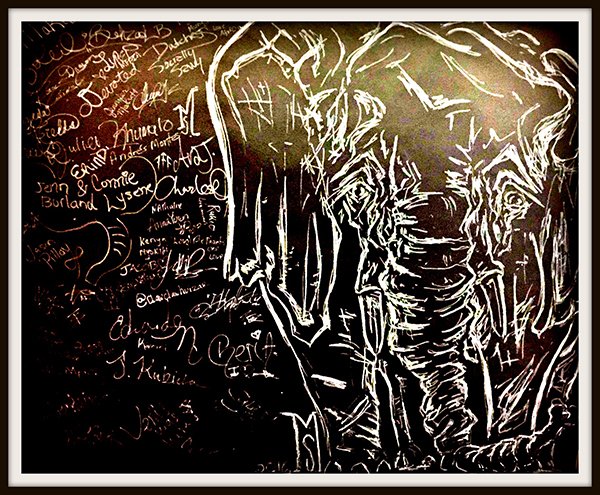 Photo: Guests signed elephant painting by artist Matt Shapira photo by DeCarbon Azul by Eduardo
I also learned a few new things about elephants that I never knew before that made me feel even closer to the cause. One tidbit I took away was that elephants grieve the dead. When one is killed, others in their family or even from other tribes go to the place of death mourn and inspect the carcass. Unfortunately, this ritual is also a tactic ivory poachers use to get even more elephants to kill. They know exactly how to attract them and where to find them in a group. National Geographic posted a video 'Rare Video Showing Elephants Mourning Matriarch's Death' that gives you a glimpse of how special these animals really are.

Photo: Guests Personal Shoppers Claudia Huizar, Jason Pillay, and Tannya Bernadette

To make a donation to The African Wildlife Foundation visit: http://www.awf.org/donate