Summer is slowly coming to an end as we enter the second week of August. Before we know it, it'll be winter and raining every day, yikes. But don't worry, there are still plenty of opportunities to take in the sun and some fantastic music. So check out these four upcoming events for some good, clean fun in the sun.
South Lake Union Block Party
August 12
The SLUBP is back this year and even better, its free entry! You can spend that ticket money on food from 16 different restaurants and food trucks and grab a few delicious drinks in the Brave Horse Tavern beer garden. You also have the chance to sample sliders from the "Best Burger in SLU" competition. Did I also mention there's music? Artists like Beat Connection. Hibou, The True Loves and more will be performing from 11am to 11pm. This free party is one you should not miss! For more information visit www.slublockparty.com
The End's Summer Camp
August 13-14
Summer Camp will be one of many great shows at Marymoor Park this summer. Local artists like Kris Orlowski and Tangerine will be performing along with AWOLNATION, Young the Giant, Miike Snow and many more. This two day festival will be the perfect end to any rock 'n roll lover's summer. For more information visit www.theendsummercamp.com
MusicfestNW Project Pabst
August 27-28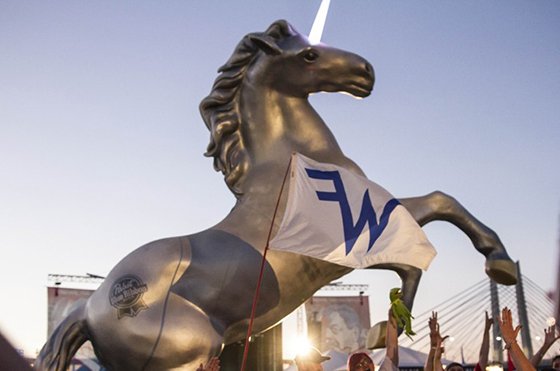 This year's Project Pabst is teaming up with MusicfestNW to bring a fantastic party to Portland. Located in the beautiful Tom McCall Waterfront Park, this two day festival will feature artists like Duran Duran, Ice Cube, A$AP Ferg, Tame Impala, Unknown Mortal Orchestra, STRFKR and more. Plenty of food carts and tasty beverages will be available as well. So take a little trip to Portland and have some fun! For more information visit http://portland.projectpabst.com.
Bumbershoot
September 2-4
Can you believe Bumbershoot will turn 46 this year? This festival is a must for all types of people, offering a wide variety of music, comedy, theatre, film, visual arts and more. Whether you are tagging along with family or going with a crew, Bumbershoot is always a blast. Between shows, you can relax in the beautiful Seattle Center and enjoy all kinds of food and drink. The lineup year this is also killer, names like Father John Misty, Macklemore, Pretty lights and Tame Impala are just the tip of the iceberg. So come and celebrate Bumbershoot's 46th birthday! For more information visit www.bumbershoot.com
Magnifique
September 17
USC is bringing back the old school EDM festival with Magnifique at the Gorge Amphitheatre on September 17th. This is one day, one stage show will host Kaskade, Chromeo, Duke Dumont and more. There is something relieving about committing only one day to electronic music at the Gorge, unlike the Paradiso bender. Anyone who attended the Identity Festival in 2011 or just loves electronic will surely have a great time at Magnifique. For more information visit www.magnifiquenw.com