Fall is just around the corner, and in the tradition of grayer skies and more indoor lighting, it's time to start thinking about your fall and winter looks. Personally I love the dark in fall/winter, light in spring/summer, however there is more to that than meets the eye. Take these tips to learn how you can take your summer looks darker without going mod black and save your hair next summer when you want to return to your bodacious blonde locks.
Warm Up For Winter

Both of these Balayage are about the same lightness, so minimal lightening at the end of the cold months would get you back to where you started. In addition to minimal lightening to get you back, getting you there is pretty easy as well. Because most of the differences lie in the tone of the hair (left image being cooler blonde and right image being warmer blonde) you don't have to go through a pre-coloration process to get to this darker feel.
Let Your Roots Grow Out

The added depth from the root darkens the overall look but can actually brighten your blond when contrasted side to side. The trick to this look is to have your roots blended slightly with your blonde before letting it all go wild. Otherwise, you'll just have a distinct line of demarcation that is less stylish and purposeful. Returning from this look back to and all over summer blonde is easy on hair and doesn't involve extensive time or effort.
Summer Strawberry to Autumn Apple

Of all of the looks in this article, this requires the most work but can still be done in one visit to the salon. It is a more dramatic change and will highlight the winter porcelain complexion. If looking tan is your thing this may not be the cold months transition for you. Going back can be trickier as well, but not unattainable and with minimal damage. If you communicate to your stylist that you intend to return to your lighter version come spring they can formulate how they want to go about darkening your hair so that it is easier on your hair to get back.
Lowlights and Indoor Lighting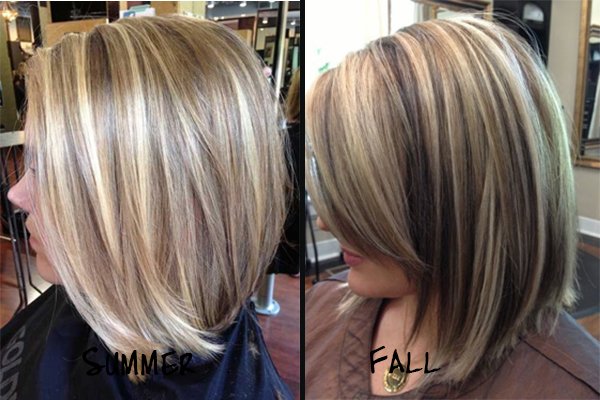 This look is easily obtained as a partial foil in the salon and can be foiled out as your usual highlight when the sunshine returns. Maintenance for this look is exactly the same as your used to with your typical highlight schedule and you can decide how fast and how dark you want to go with this look.
Your stylist friend,
Christina at Vann.Edge Salon