This rock and roll inspired runway production had the audience dancing to the beat of the music and admiring every look. Fashion First is in it's 13th year running and has been successful in creating a platform to share our favorite local boutiques, designers, and up and coming fashion students to the Seattle scene. This year's new venue at Hotel Motif made the setting more intimate. The audience sat right up to the runway and even the general admission had a stellar worthy view of the show. Local boutiques received great exposure through a cohesive set where every look matched the music selection. This year's line-up of boutiques included Canopy Blue, Intermix, The Brik, Cute Like Mad, David Lawrence, Divalani Style, The Finerie, Mercer, Ragamoffyn's, and Sharply. In addition to the fashion fun, part of the proceeds supports The Crescent Moon Foundation to help provide children in need of financial funds for education. View the most eye catching looks of the night below, if you find some favorites, get in contact with the boutiques to get pricing and designer information.
Photo Credit: Jami Davis Photography
The Finerie

Fall is all about mixing textures. This black and lace dress was converted into a effortless daytime look with the addition of the bulky tweed knee length coat. That rich green won me over, loved how it was paired to elegantly. Their pieces are unique yet practical
Ragamoffyn's

Leggings are always a fashion fave. The silk retro print tunic was toped off with a cropped white fur jacket with black trim. Their pieces are unique collectibles for the fashionistas's dreamy wardrobe.
Canopy Blue

My favorite pairings are high fashion statement pieces with wardrobe staples. The fringe skirt is worn in a way that is irresistible, It's a dream come true to wear couture looking pieces on a daily basis. Here they added the top accessory of the season, a twisted choker in neutral suede leather.
The Art Institute Fashion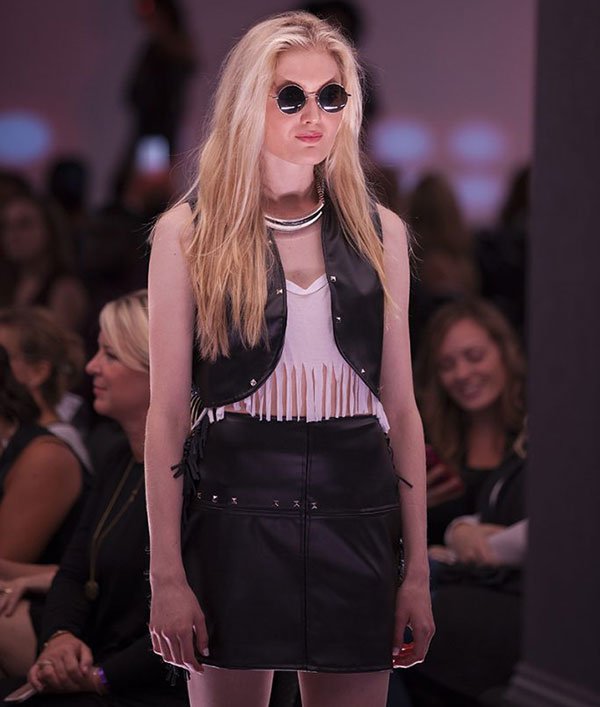 The students who contributed to the fashion show this year did such a great interpretation of the top trends of the season, every look fit the overall rock and roll theme of the night. This particular outfit caught my attention; the frayed cut off tee with the crop leather vest was a great trend combo.
David Lawrence

The maxi dress is a comfortable and easy way to transition into fall weather. The short studded jacket that was paired with the slinky dress was a great statement piece that can be worn with leggings, a maxi skirt or jeans for a casual evening out.