Sasquatch! is four full days of music, arts and communion that takes place at the world famous Gorge Amphitheatre. Each day is jam packed of musical acts where it's physically impossible to see them all. Every little nook and cranny of the Gorge Amphitheatre you'll find work by Sasquatch! artist, Ryan "Henry" Ward and other featured visual artists. And of course, what is a festival without some friends to enjoy it with? How do you sum up such a crazy event like Sasquatch!? For me, the answer is simple. Five bands who made my trip to Sasquatch! are Alabama Shakes, Allen Stone, Beat Connection, Deep Sea Diver and Mac DeMarco. It was not only the power of their music which resonated with me so well, but also their ability to connect with the crowd that made each of these artists so special.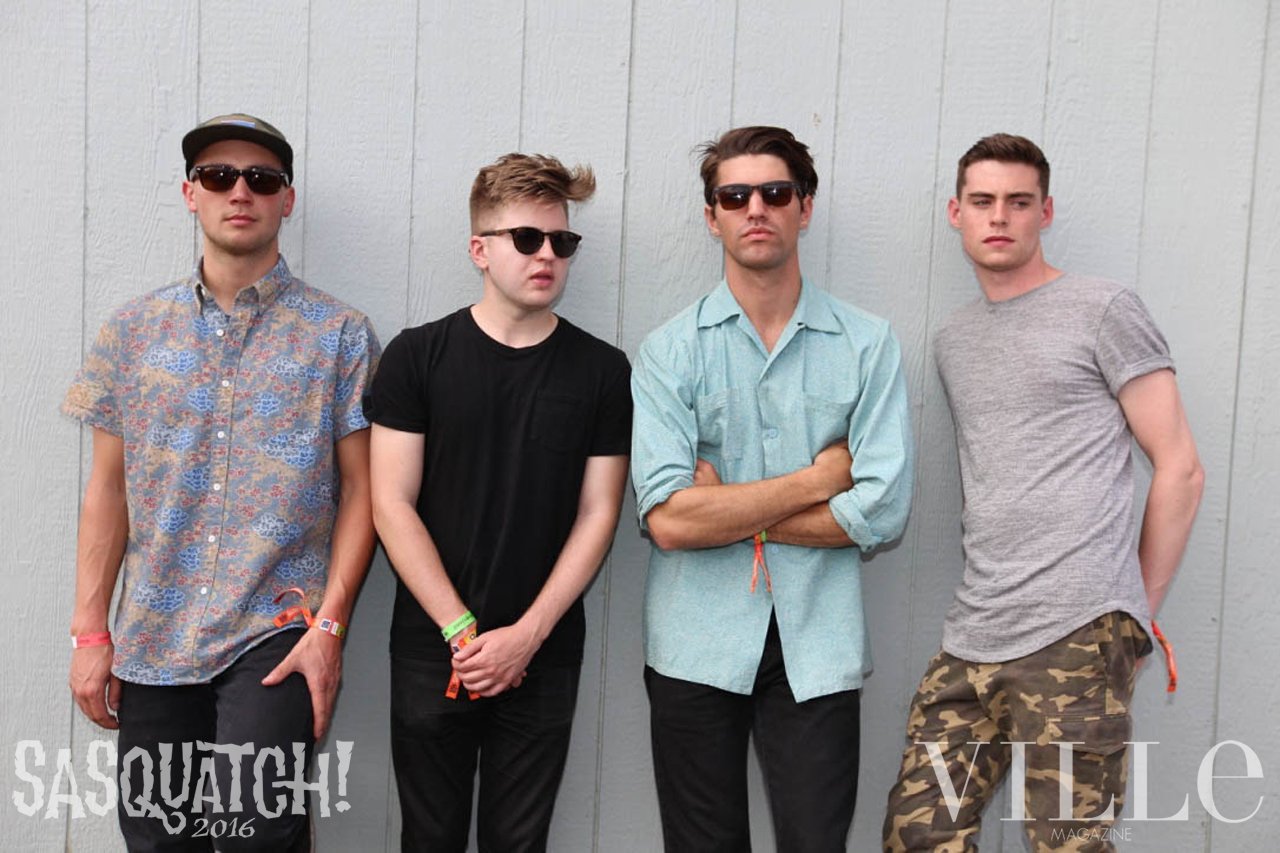 Let's begin in chronological order with Beat Connection. Even though they encountered some stressful technical issues, Tom, Reed, Jarred and Mark provided a great night for everybody in the crowd. You could tell they were happy to be there and play for us, which is huge. Their combination of electronic beat machines and live instruments was so unique and refreshing for me to witness. It was impossible to be at the El Chupacabra stage and not enjoy yourself during Beat Connection's show. These four men are definitely holding it down for the Seattle music scene.
Next, we jump to Sunday where we saw Deep Sea Diver, Mac DeMarco, Alabama Shakes and Allen Stone in one day. Despite playing very early on in the day, Deep Sea Diver played with power and intensity. It takes a lot to be on the frontlines and I deeply respect Deep Sea Diver for that. You could complain and say they deserved to play at a later time, but it seemed like they didn't really care when they played, as long as they could play. They are very explorative with their sounds, and it was easy to see that they were enjoying themselves on stage, a feeling that was projected onto the crowd.
To envision Mac DeMarco's show, picture yourself walking up to a house and knocking on the door. Mac DeMarco opens it up and says "Hello friend, welcome to my home. Come on inside and make yourself at home. These are my friends and we're going to play a few songs for ya. So just kick back, relax and enjoy the show." During the performance Mac would say things like "if you want to dance to this one, go right ahead, but if you are too shy don't worry because I get very shy too sometimes." He was so personable and relatable I almost couldn't believe that these guys were "famous." They spent so much time jamming, switching instruments and stage diving, controlling the crowd with their stage presence and crazy antics. Mac DeMarco, without a doubt, won The Most Fun While Performing award this weekend. Alas, good things must come to an end. Luckily for us Alabama Shakes had already started playing on the mainstage. Even luckier for us, due to wind delays, Allen Stone had been moved to El Chupacabra at 10:30.
We walked hand and hand into the night with Alabama Shakes. The sweet soulful sounds of Brittany took us away. I always love watching her strut around on stage and singing like she is trying to release so much pain and sorrow she's held on to. One sad thing about this performance, which can happen a lot at the main stage, is we began to catch a lot of the bass from the Yeti stage. This would disrupt Alabama Shakes' performance when Brittany would sing real soft and low. It was also quite windy and cold that day, if you remember the whole wind delay fiasco. But, we persevered because Alabama Shakes did as well. During the show, Brittany paused and said "I'm so thankful to be here with all of you and see you, I won't ever forget that, thank you." In her voice, you could tell she was sincere. It's great to remember that artists are just like us. When they finished we moved to El Chupacabra to see Allen Stone. This would be the best performance of the weekend, no question.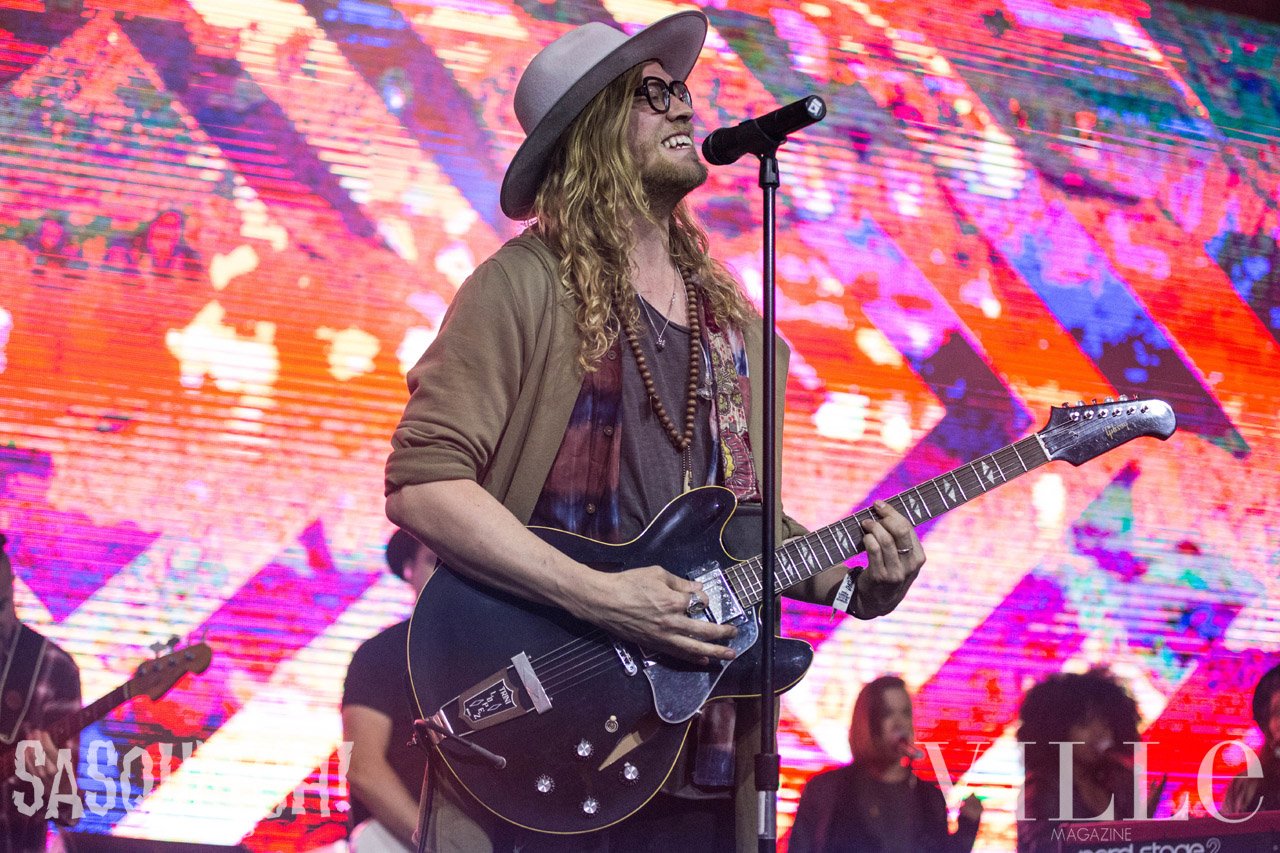 Here, in this tent, the power of love and the power of music combined. The way Allen speaks to the crowd, it is obvious that he is the son of a preacher. He expresses himself with so much fire and passion it moves you. You want to be on his level. Allen asked the crowd if we came here to experience something we never had before. If we wanted to be free in this moment with him and his band. This invitation was accepted with open arms by everybody in attendance this night. And boy, did he deliver. I've been to many a concerts in my day but I have never experienced anything like what happened in that tent Sunday night. The combination of his voice, his full band, the atmosphere and his psychedelic visuals was truly something else for me. Allen sent shivers down my spine as he sang "Cash that paycheck, spend it all. Build that house up big and tall. Break the bank to build the wall" in "American Privilege" and my eyes were full of tears when he sang "Papa said, Son, it's the land of the free. As he broke his back trying to make ends meet" during "Unaware." I'll never be afraid to admit that. Who knew a little church going white boy from Chewelah, Washington would have so much power and soul? The best part about this concert is if the wind hadn't been so bad, Allen Stone wouldn't have been moved into a smaller venue. This close and intimate vibe we all shared may have never existed. He also would have played during the day instead of the night, making his vibrant visuals explode and pop on the screens behind him. When the show was over I tried to speak but nothing came out. I just held up my hands and pointed to the stage. My friend Ty looked at me and said "Yup, I understand." How do you bounce back from a performance like that? How do you just re-enter reality and accept that this moment is over? I'll never fully quite grasp this concept. I am so thankful to have experienced this wonderful moment in time. I know I will always look back on his performance and think "yes, that right there, that was perfect."
Check out the photos from the weekend here: http://villemagazine.com/sasquatch-2016-day-1-day-2 / http://villemagazine.com/sasquatch-2016-day-3-day-4