A piece of Mid-Century, Hollywood decor that has wheeled itself back into the hearts of stylish hostesses and become a centerpiece of elegant home entertaining in these past few years is the `bar cart'.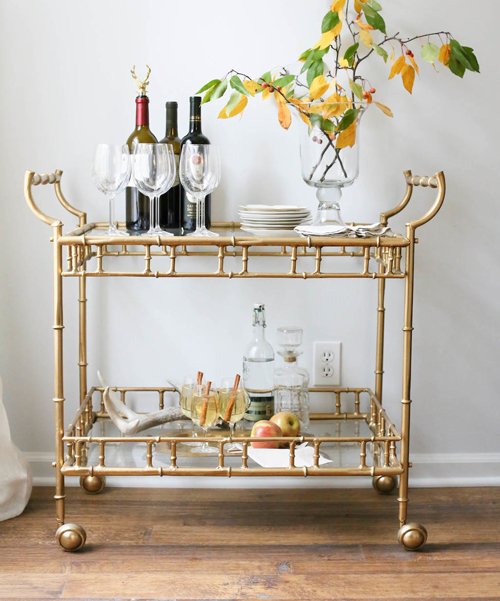 The sweet romance of cocktail hour inspired by movies like Breakfast At Tiffany's and The Seven Year Itch, has resurrected itself in the modern living room taking party guests out of the kitchen to gather around this beverage dispenser that's so much classier than a margarita machine!
It's not just a convenient drink-pouring station. The bar cart has so much decorative potential, it can easily become the talking point of any party, attesting to your taste for gracious entertaining via the crowd-pleasing lubricant that gets any social get together humming alcohol.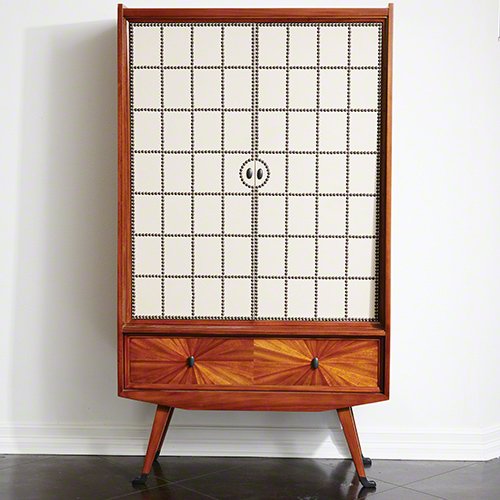 Stock the cart with all bar necessities, dress it up in your own creative style, wheel it over to a place where your guests will notice it as soon as they walk into the living room. Your party is already a success, and the doorbell announcing your first guests hasn't even rung yet!
Here's a quick primer to get you set up with all the savvy ideas you need to prepare your own, unique drinks trolley. Have fun with this DIY experience and do share images of your bar cart project with us here at Greenbaum. We want to see how you're pushing your next party out in a rare, innovative style!
Spirits
You can whip up any number of cocktails if you have these 6 basic spirits in your bar cart: gin, white rum, vodka, bourbon, tequila, and brandy. While it's fun to experiment with interesting new mixers to create special and seasonal cocktails, make sure you always have the four popular ones handy: dry vermouth, sweet vermouth, Lillet Cointreau and triple sec bitters (Angostura, orange, etc.). Fresh lemon slices for juicing or garnishing with olives, cocktail cherries and fresh mint leaves, coarse sea salt and sugar to rim glasses. For glassware ideally, you should have 6-8 of each of short glasses, tall highball glasses, coupe glasses (for cocktails and sparkling wines) and wine glasses (use the same for both red and white).
Bar Tools
You don't need a full set of equipment unless you're a pro at mixing drinks. Keep it simple with only the essential tools that most of your guests will also be comfortable using like a cocktail shaker, jigger, strainer, corkscrew, bar spoons and an ice bucket.
HOW TO STYLE YOUR BAR CART
There are no rules with this one, so follow your creative instincts with a seasonal theme, color scheme or whatever visual styling that catches your fancy. For example, look for pretty, artisanal packaging, decorative cocktail trays, coasters, napkins etc. that all tie up and rally together to make a unique style statement. Cloth napkins, stainless steel/paper straws, vintage glassware, cute liqueur bottles, fresh flowers, seasonal fruit platters – all these well thought out additions finish the look and turn an ordinary drink station display into a spectacular one.
WHEN YOUR BAR CART IS NOT IS USE
The wonderful thing about a portable drink trolley is that its function is not limited to parties and social events. Make your bar cart multitask as a side table, a mini bookcase, a planter, a bathroom caddy - the creative possibilities, truly, are limitless.
Make sure to check out Greenbaum Home Furnishings located at 929 118th Ave SE in Bellevue with our wide selection of bar carts for your style desires!