If experiencing Sasquatch alone wasn't great enough already, I had the wonderful opportunity to interview some great Seattle groups like Beat Connection, Grace Love & The True Loves, Tangerine and Thunderpussy as well as Chicago rapper, Sir the Baptist.
CM: I saw you guys recently played a DJ set at Neptune. How does a DJ set work with a 4 man group?
Reed: We're actually working on changing it up a little bit but right now the DJ set is just me. Composition and flow is really important to us when we're working on records and shows. I started Djing a long time ago, it's been an important part of the band but it's not something we do that often. It's more of a special event because we haven't quite figured a way to bring everyone into it yet. It's kind of difficult to have four people standing up there saying "no dude, this song, this song is hot, no, this one"
Tom: Reed is the DJ section. We just trust him. We all listen to a lot of the music he ends up playing so it somewhat is a conversation in that way. But Reed is the dude.
Reed: They don't just let me play weird dubstep and crap like that.
CM: Good, I'm glad. Next question. What is one modern artist you would like to work with?
Reed: Andre 3000
Jarred: Jai Paul or Frank Ocean
Mark: Erykah Badu
Tom: Jose Gonzalez
Grace Love of Grace Love & The True Loves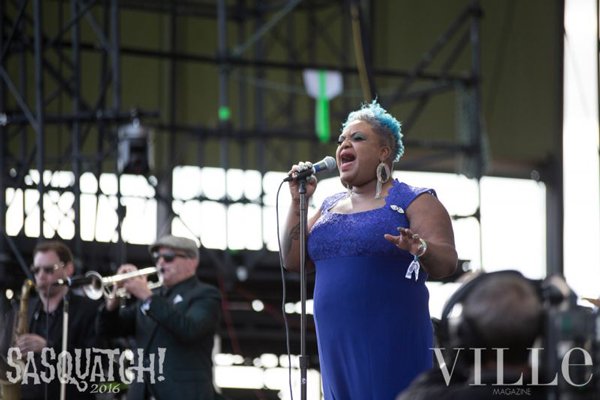 CM: How are you planning on spending your time at Sasquatch?
Grace Love: To be honest, the main reason why I am here is Ms. Brittany Howard from Alabama Shakes. I am going to fan girl on her just like everyone is fan girling on me, but probably a little more. Hopefully security doesn't get called.
CM: I heard you do pop up dinners. What are the details on that and what are you cooking up?
Grace Love: It's called Nadine's. The next one is June 10th at Pike Place Market. On the menu right now is BBQ roasted chicken, Honey mustard baked beans, apple coleslaw with a jalapeno vinaigrette and a southern deviled egg. It's just going to be really good soul food.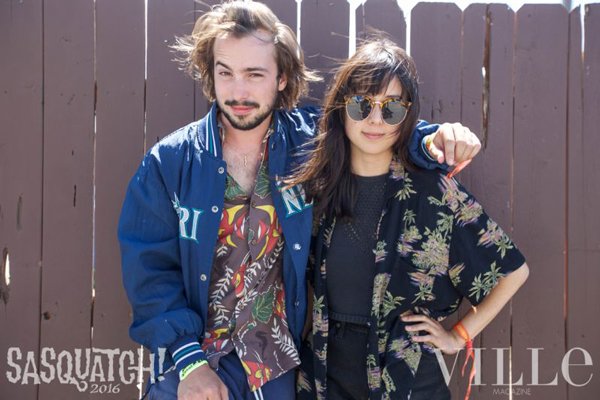 CM: How are you planning on spending your time at Sasquatch?
Marika: We saw Wolf Alice last night and we really loved that. Today I am just going to see the basics like Mac DeMarco and The Cure.
Toby: We're going to catch Fauna Shade after these interviews, Mac DeMarco of course and Big Grams. Hopefully I can get backstage and get a good look at Big Boi. Oh and Leon Bridges, today is going to be a good day!
CM: What is next after Sasquatch? Where can we catch you playing next?
Marika: We are playing Capitol Hill Block Party in July. We're also playing 107.7 The End's Summer Camp in August at Marymoor Park.
CM: How have you been spending your time at Sasquatch?
Whitney: Chambonging at Club Pussy and freshening the tinsel. Raking the Zen garden…you know, festival things.
CM: I think your cover of Helter Skelter would have really impressed The Beatles. Do you ladies like to cover any other songs?
Whitney: We love doing covers and trying to make them our own. I think everyone's favorite was playing Led Zeppelin's Dazed and Confused at last year's Sasquatch!
CM: I heard you are going to Seattle after Sasquatch. What are you planning on doing?
Sir the Baptist: I just want to connect with as many people as possible. I'm not a big fan of the industry. I want to meet as many normal people as possible. We're going to do a run through the city and get people to join us. We're also supposed to be connecting with a few veterans to have a veteran's dinner. And we're doing something for HIV/AIDS. We try to be in the community and around people as much as possible.
CM: What's one living artist you would love to work with?
Sir the Baptist: Jeez la weez that is really a good one, oh man. Aretha Franklin, she's still alive right? Yeah, if I could get her that would be super awesome. Because you can't do a Kanye type record and call it gospel or get Aretha Franklin on it, she is not going to fall for it. She would think "this is my history, I'm in history books, and you're not going to screw up my name. You have to do it right." It would have to be real gospel. So yes, I would say Aretha Franklin. Thank you! You helped me get that, give me a hug man!