Seattle's heat wave won't last forever! As fall is approaching, there are warmer options trickling in to get you ready for cooler nights. Taking the right lightweight layering option is key to staying comfortable for rooftop parties and outdoor gatherings. When choosing from the options below, take into consideration what you'll be wearing. There's everything from a silky botanical kimono, embellished denim jacket, faux leather jacket, open stitched cardigan, and chic white blazer to complete your look.

The Kimono + Botanical Ivory // HARK + HAMMER $258
Kimonos and loose fit silky layers are summer's romantic option. There is a mix of a sexy seductive element with the look of lingerie but I promise it is daytime appropriate. The soft, silk charmeuse is imported straight from Italy, where fashion is all about quality. The shorter length give you options to wear this easily with slip dresses, longer tops and fitted pants. Hark + Hammer is all about keeping it local and keeping high end manufacturing in the US, their designs are a mix of modern with classic tailoring structure.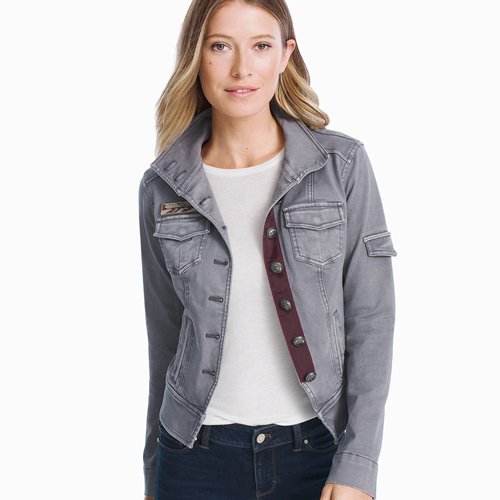 Embellished Denim Jacket // White House Black Market $150
Denim jackets are all over the place for summer get one that has distinct markings that stand out from the rest. If you own a jean jacket already, you can add another to your wardrobe because fall fashion is all about denim on denim. All your denim pieces will transition into a year round staple that you can combine with knit sweaters, body con dresses, or a pair of jeans. The gray wash gives it another advantage for styling by adding even more options to your go-to denim looks. Change it up!

Faux Leather Jacket // BLANKNYC // Nordstrom $98
It's still summer and I'm not ready to take out my black layering pieces from storage. Take advantage of the lighter color combos and opt for a blush biker babe jacket to keep you cool and in-check for the nights you want to cover up. It's always a plus to find a biker-like jacket that fits your curves perfectly. If you find that the boxy style doesn't work for your body, this is might be that magical piece you've been looking for.

Open Stitched Cardigan// mo:vint // Anthropologie $98
Summer is all about relaxing and if your agenda isn't a fancy, dressed up gathering, sweaters are just what you need. MO:VINT is the perfect balance of vintage meets modern Parisian with a bit sunny California style all-in-one. This gold open stitch knit is the perfect example of just that. Its unstructured, brightly colored, easy to wear style works well to add texture and warmth to your outfit. This one couldn't be more easy to share or wear.

Ursula Blazer // Club Monaco $279
A white blazer is always a good idea for cool nights. This one is especially chic and a non-traditional option that works with pieces as casual as cut off shorts or ripped jeans. Its collarless design is made to match all kinds of shirt necklines to make your styling effortless. In the back, you'll notice a cute tie and cut out detail that will elevate your look to new heights.