The circus has finally arrived in the Seattle area – well the "Cirque" that is. The highly anticipated touring show, LUZIA, premiered this past Thursday under the Big Top inside Marymoor Park. Opening nights are always a big deal – it's the first impression; it sets the standard on what to expect. I've been to three other Cirque opening nights, LOVE, Michael Jackson ONE, VIVA Elvis (no longer in production), and I saw O after it had been around for about year. All the shows are on massive stages in Las Vegas so experiencing Cirque du Soleil under the Big Top was a first. Any show Cirque produces is exceptional, but LUZIA was incredibly different because it was the best Cirque show I've seen yet.

Once my date and I arrived, we were greeted by a Mariachi stilt walker with a puppeteer senorita and Dia de los Muertos characters. We were guided through the doors into the big tent that was equipped with snacks, bars, souvenirs, a Russian Standard Vodka Lounge, salsa dancers, Mexican guitarrons and an artist painting a mural from start to finish.

I was concern that the tent may be chilly on a cool March night, but to my happy surprise it was nice and toasty. Promptly at 8 pm the show began and we were taken on an unforgettable journey from Marymoor Park into the cultural world of Mexico. Every element, from the characters and acrobatic performances to the staging and costumes represented some element of Mexico – including the rain, the first integration of water inside the Cirque Big Top. A whopping 1,585 gallons of recycled water is used during the performance.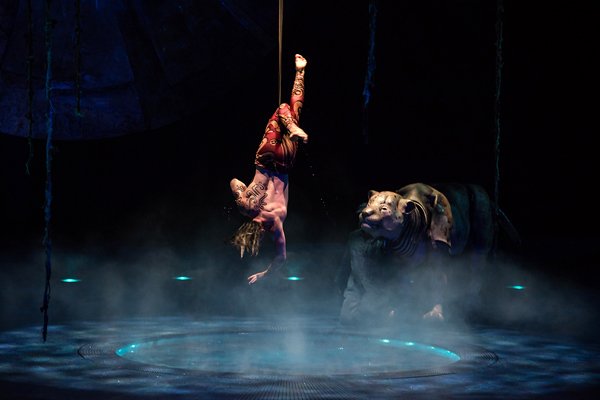 LUZIA was lively and humorous and each stunt was astonishing. I think one of the biggest draws for me was that I could see it all. When watching a Cirque show in Vegas, there is a lot of space to watch. It's hard to see everything that is going on. With LUZIA being in a smaller, intimate setting, you see everything – not missing a second. It's hard to narrow down my favorite act, but two really left an impression on me. The contortionist was insane. Flexibility for me is touching my toes so how someone one can can move their body like that is fascinating. The straps with giant jaguar was a personal favorite, it had the rain, talent, emotion and was visually intoxicating.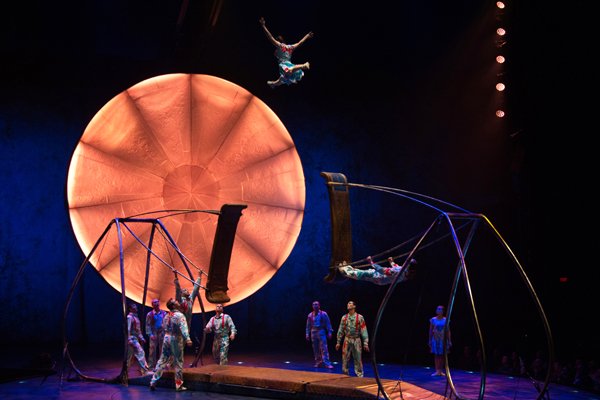 In a high-risk performance, there are going to be mistakes and accidents are always a concern. Being an observer of the small things, I've noticed a couple of hiccups in mostly every show I've attended. I've never seen an accident, but unfortunately that night, LUZIA had one. During the last stunt performance, one of the swingers jumped backwards off a swing on to another and landed on her back. The production team and medic staff handled the situation swiftly and very professionally. Cirque announced later that evening the performer had recovered just fine. As the show must go on, the set was cleared, and the final act ended on a happy festive note.

Overall, LUZIA is a show you don't want to miss. Make sure pick a night through May 21st, grab your tickets and let yourself get lost in its journey through a waking dream.
For more details on LUZIA including the story, inspiration and in depth description of the characters, check out its full spread in our Anniversary Issue and click here to view more pictures from the show from JLD Imagery.