During the summer months, our luscious locks flow ever so lightly in the warm breeze with our highlights shining from the bright sunny rays giving the essence of long beautiful hair. But let's be honest, underneath the beauty is a sweaty mess of sticky hair or continuous sprays of hairspray to keep those humidity curls from springing up. Take these trending updos to keep cool this summer, each featured with a tutorial so you can nail every look.
---
TOP NOTCH KNOTS


Whether you want to part ways and wear it half and half or tie it all together, the top knot has made its way up. From a casual look to a trend celebrities are sporting out and about and on the red carpet.
Top Knot Tutorial by Amber Scholl
---
HOT CROSS BUNS



If you're not a fan of knots but like the idea of wrapping your hair up in a bun, there are plenty of other options. Pull it through a sock and to get the ballerina look to wear it any time or a formal event. Keep it messy to add some volume or tuck it under for low pull.
Messy Buns Tutorial by Annies Forget Me Knots
---
GET TWISTED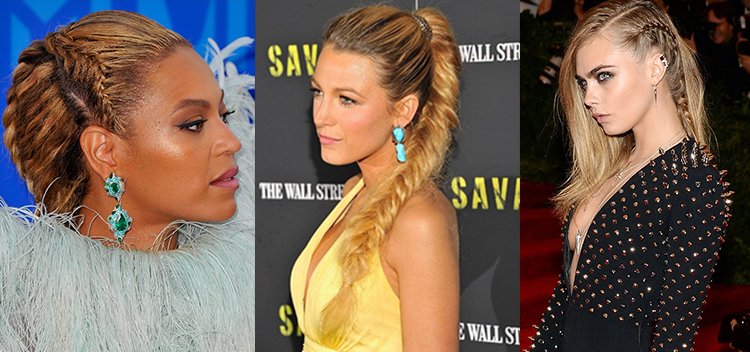 Braids are a great way to add some texture to any hairstyle. You don't have be an expert French braider either. They are dutch braids, fishtail braids, twisted braids, full braids, headband braids… the options are endless. Wear them in clean fashion or twist them into something more edgy.
3 Easy Braids Tutorial by Roxxsaurus
---
PONY UP


Throwing up the 'do in a pony is an easy and simple way to give your mane a stylish look in multiple ways. Whether it's sleek, messy, mixed in with a few braids, low or high, or bringing back the 90's bubble tail, any way you decide to wear it, it's the perfect cool look.
Easy Bubble Ponytail Tutorial by Alex Gaboury
---
HALFWAY THERE


If you can't stand the idea of putting your hair all the way up then perhaps a compromise is the better way to go. Keep half of your locks down, free to flow and give the upper half a mind of its own. You can keep it neat, work in some of the buns, knots, braids and ponies above or pull up some of those beach waves and keep it messy. The bed head look is in.
9 Half Up - Half Down Hair Tutorials by Lyss Ryann