Swimwear decorates your bare bod in just the right places so you can play in the sun and look good. With so many options this season, do take into consideration the use - will you be swimming, lounging on the pool side, or looking good at the yacht party? Women's swimsuits are following similar trends from the runway including sporty inspired looks, sexy cutout detailing, crazy print mixes, and color blocking. Men's trends include a play on colors, abstract prints, and modern vintage prints. Buy one, two, or three different options this season, that way you will be well prepared for your next invite.
Keep it Wild // L Space // Top $92 // Bottom $79

Show off your cleavage in this web-like cutout bikini top. This style won't be hard to find, you will come across many similar variations but this particular one is more flattering and flirty. The matching bottoms also have cut outs on the side to show off those lovely hips. The black and white option is mysteriously sexy, but this bikini comes in bright solids as well.
Taha // Reset Priority // Top $97 // Bottom $58

A mesh halter neckline is not a typical cut for a swimsuit, everyone will want to know where you got this one. After you tan a bit in the sun, the coral and white combo will look lovely against your golden skin. It's handmade by Italian craftsmen who know a little something special about innovative designs for women.
Palm Print // Top Shop // Top $35 // Bottom $26

Looking for a sporty inspired look with a girly flair? This bright tropical print mixed with the sport inspired stripes work perfect for the athletic gal. You can play tough, but own your athletic bod with a colorful and playful bikini option. Another plus is this style looks high-end; no one will guess it was under $70.
Copa Cubana Goddess Printed // Nanette Lepore $148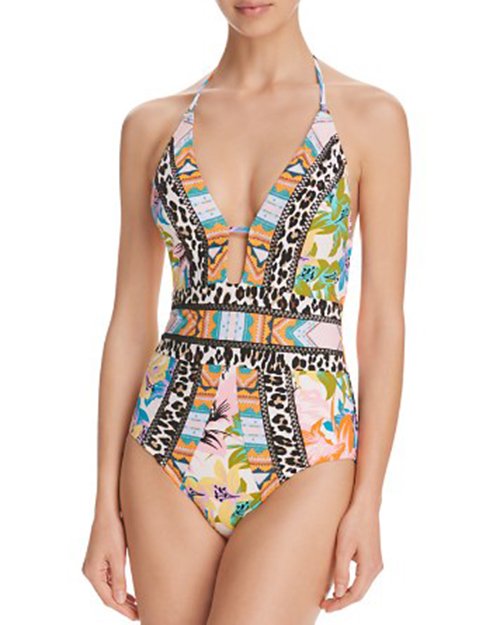 Flaunt a collage of floral, geometric, and animal print one piece. This array of crazy colors and contrasting prints is a look that is right off the runway. You'll find this trending on every stylists' Pinterest board, but this option is only for the Leo-like personality who isn't afraid of adventure. Truly a far from classic or simple option, it is made for the artistic and fashionable woman.
White Deep Plunge Linda Monokini // Carnet de Mode $288

The one piece has become a sexy alternative to a bikini. Look for a 'monokini' with cutouts that show off your body yet keep you covered and secure. This one piece would make a great vacation poolside, lounge option or to star in J. Lo's next music video. Either way, your white attire will let others know you feel confident and don't mind the attention.
Windward Ikat // Sol Angeles $118

Not your average print, the Ikat design is bold, but the colors are soft. Makes a stylish statement without going overboard. These swim trunks by Sol Angeles also make great shorts to wear besides the water activities.

You love a classic but want a twist to the traditional summer stripes? These shorts combine unexpected colors to create a modern classic look. The drawstring waistband adds a comfortable fit to the sun-washed swim shorts.

This intricate marine print is as bright as the sun. Enjoy the convenient pockets and comfortable fit. You'll wear this all summer long - definitely makes a great swim trunk for swimming, no one will be able to lose you.
Pineapple Punch // Alresford Linen Company $171.60

Pineapples! This vintage, faded pink trunks are great for the pool or for wearing with a white tee on a hot summer day. There is something hot about these shorts, must be the dapper man I can imagine wearing them.
Moorea Sea Reflection // Vilebrequin $191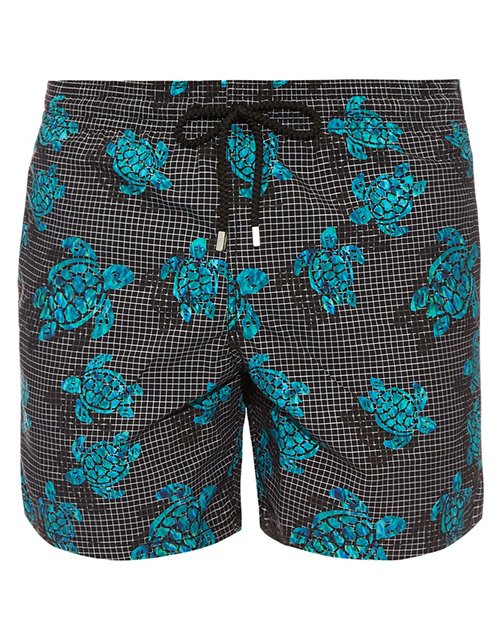 A playful sea turtle print on a classic-fit swim shorts. The black and white background busy background really makes the blue-green color of the turtles pop for a fun take on mixing prints. If you are looking for something unique that only a stylish man dare wear, get the sea turtle trunks.