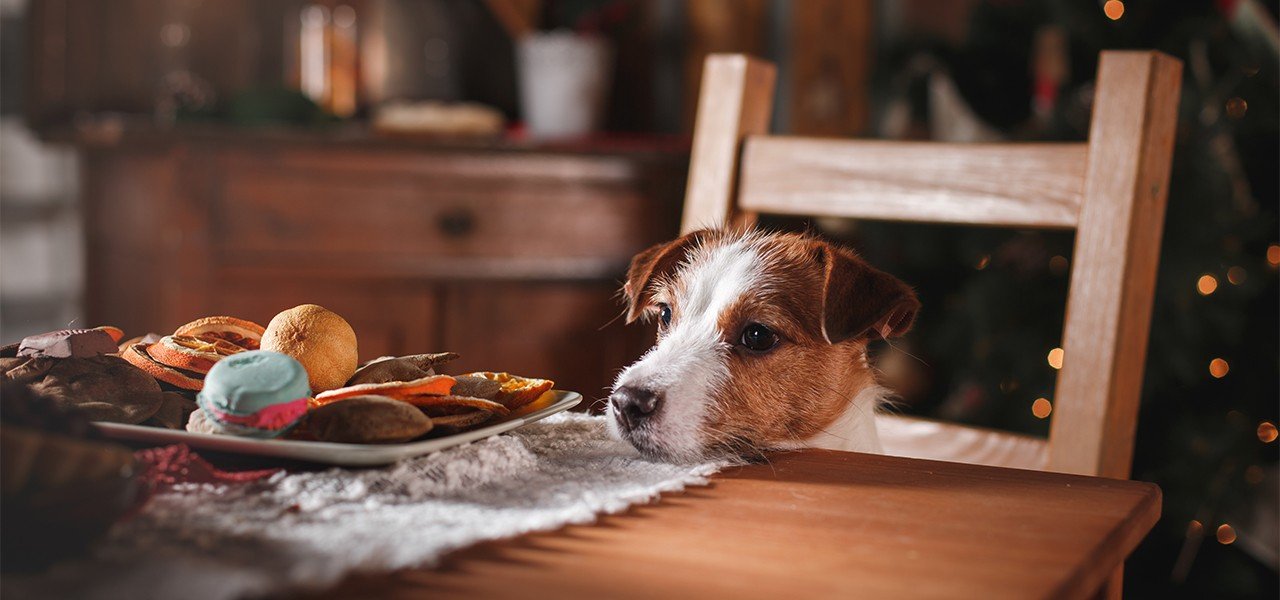 The holidays are our favorite time of the year. Besides being spoiled by our awesome pawrents on a daily basis, the holidays mean extra treats, toys, and if we give the cutest of puppy eyes, a few bites of holiday dinner. However, no matter how much we beg, we can't have it all. Don't worry fellow pups, there are some we can be thankful for along with some great alternatives. THE NAUGHTY LIST
Gobbling Up Turkey

It seems like giving us the bird would be completely ok, but we won't be thankful for all of it. Feeding us raw turkey – that includes the neck and gizzards, can cause bacteria or salmonella poisoning that could end our puppy years. If the turkey is cooked, avoid treating us to the turkey skin. It's too fatty and will give us diarrhea and may cause pancreatitis. Lastly, no, no, no, turkey bones. All of us love a good bone, but turkey bones will splinter causing us to choke or rupture our belly. Keep it to cooked lean pieces without seasonings, gravy, or grease to keep us jolly.

Pigging Out

How many times have you given your pup bacon or ham? Man, both of those are really yummy, but you may not have noticed that your furbaby wasn't feeling good afterwards. The grease from bacon is fatty and just as bad as that turkey skin and ham is packed full of sodium and preservatives – including those labeled organic and all natural. If sodium isn't good for you humans imagine what it can do to us!

Going Nuts

We like to think the nutcracker is a great chew toy for us during the holidays (if we can find a way to grab it), but the nuts that get cracked could be deadly. Macadamia nuts are poisoning to us so if you see us depressed, weak, vomiting, having tremors or paralysis, lack of coordination, or joint stiffness – take us to the vet ASAP. Walnuts contain a dangerous toxin that causes seizures, and almonds, pecans, pistachios, and hickory nuts can make our stomach upset or cause an obstruction. Peanuts, cashews, and hazelnuts are ok in moderation, but should be cooked along with salt, sugar, honey, and candied free.

Sugar and Spice – Not So Nice

Onions, garlic, sage, chives, and nutmeg is all very dangerous. Not only will our stomachs hurt, but could have long term negative effects on our nervous system and red blood cells. Stuffing, mash potatoes, sweet potato casserole, and pumpkin pie are the main culprits containing these so make sure to check all of your sides before "accidentally" dropping any.

For the sweet stuff, most humans know sugar needs to be extremely limited, but some may not know sugar-free treats are just as dangerous. The artificial sweetener, Xylitol (also known as Gum Xylitol) causes a fast and sudden release of insulin in our body seriously lowering our blood sugar in less than 15 minutes. We could end up vomiting, being lethargic, having tremors, and more. If you don't take us to the vet, we could end up dying or with severe liver damage.

Just a Few More

A few other items you may or may not know is unbaked dough – especially bread dough. It may seem like an obvious thing since humans shouldn't eat it either, but some just can't resist puppy eyes. The dough can expand causing the stomach to twist that will require emergency surgery. Also bread dough contains yeast. Yeast creates alcohol, which tosses me to the next thing. It may seem cute to give us a small sip of beer, wine, or any alcoholic beverage, but it won't be cute if we end up in respiratory failure or having seizures. Besides wine being alcoholic, it is also made from grapes. Grapes (and raisins) can also be fatal and cause kidney failure. Coffee, tea, other caffeinated beverages, chocolate, salt and avocados are also listed on the naughty foods list.

One to watch is dairy. Some pups can handle it, some can't due to a lactose intolerant. Also cow milk can contain sugar and almond milk, well, almonds aren't good for us so the milk isn't either.
THE NICE LIST I understand how hard it can be for you humans to resist our begging charms and may think that "just a little won't hurt." But do you really want to take that chance? To make us feel like we are still part of the holiday traditions without sacrificing our health, here are some dog approved holiday sips and eats to...