There are significant ties for when we are born in relation to "who" we are – may it be by the minute, day, week, month or year. Perhaps the most recognized association is that of the zodiac - when people ask you what's your sign. But in earlier times one's birthstone was just as significant.
Even though early integration of the birthstone is unclear, the power and value over gemstones dates back to ancient times. Birthstones were spoken of in the book of Exodus in the Bible. Zodiac birthstones were written about in the 1st century. The idea of the modern birthstone – a person wearing a gemstone in relation to their birth month - traces back to Poland when Jewish gem traders arrived in the country during the 18th century. The current list of the modern birthstone was set in stone in 1912 by the US National Association of Jewelers.
However, modernization of the 12 gems didn't dull the beliefs associated with them. They have and are still believed to have powers that influence your personality and traits along with superstitions. One example of this is wearing your birthstone will bring you good luck and prevent illnesses, bad karma and other negative energies.*
Read what makes your birthstone special below and if you're looking for some good luck, find the best way to wear it with a little help from our friends at Turgeon Raine.
---
January / Garnet
History and Lore
Greek goddess of sunshine, Persephone was captured by Hades, the god of the underworld. Before he released her, he gave her some pomegranate seeds to guarantee her return. Garnet is derived from the Latin word, "granatus", which means seed because they closely resemble pomegranate seeds. In relation, garnet are believed to heal the bond between broken lovers or ensure safe travels.
Benefits and Uses
May prevent nightmares, sharpens perception of one's self and others, gives strength and confidence in business, boosts energy levels, aids in sexual potency and fertility, and help in overcoming depression.
Wearing It
Egyptian pharaohs wore red garnet necklaces that were entombed with them as prized possessions for the afterlife.


Gemstone necklace by C.A. Kittle l $8,375
22 karat yellow gold necklace with rhodolite garnets and pink sapphires. Hand made gold beads - 22-inches long.
---
February / Amethyst
History and Lore
Greek mythology states Amethyst was a beautiful virgin on her way to pay tribute to the goddess Diana. On her way, she ran into fierce tigers that Dionysius, god of intoxication, created for revenge against a mortal. To protect her, Diana turned Amethyst into a statue of white quartz. Dionysius wept tears of wine in remorse once he came upon the statue staining the quartz purple. In turn, the gemstone is said to help prevent one from getting drunk and helps keep a sober mind.
Benefits and Uses
Encourages bravery and self-control of emotions and thoughts, promotes pure and true love, opens the "third-eye" to assist with prophecy and visions, brings wealth, ensure lawsuits are won by the rightful party, reduces stress, and if placed under your pillow at night, will prevent insomnia and provide a peaceful sleep.
Wearing It
Amethyst is often exchanged between two lovers to strengthen their commitment. St. Valentine, the patron of romantic love wore an amethyst ring carved with the image of Cupid.

Amethyst Gold Ring l $3,975
18kt yellow gold with a square-cut cabochon amethyst set over mother-of-pearl. 
---
March / Aquamarine
History and Lore
Early sailors believed that aquamarine talismans, etched with the likeness of the sea god Neptune, provided them safe and prosperous passage across stormy seas. In medieval times, it was said to make soldiers invincible, and folklore believed it would bring rain or cause droughts against enemies.
Benefits and Uses
Shields and protects, reawaken married love, bring mental clarity and decision making, "all purpose" healing, discourages miscarriages, treats procrastination, and help find lost or hidden items.
Wearing It
When worn as an amulet or pendent, it's believed to relieve pain, make the wearer friendlier, and cure laziness. 


Aquamarine Pendant Necklace l $2,400
18karat white gold pendant with rectangular shape Aquamarine weighing 2.65 carats with 18 inch white gold chain. 
---
April / Diamond
History and Lore
The diamond has an extensive history and multiple kinds of lore, but one thing they all have in common is that it brings the wearer strength. Ancient Greeks believed diamonds were tears from the gods and made their warriors stronger. During the Renaissance Period in 1477, Archduke Maximillian gave Mary of Burgundy a diamond engagement ring starting the trend amongst the wealthy, but it wasn't until 1947 that it became a standard when De Beers' marketing campaign, "A Diamond Is Forever" began.
Benefits and Uses
Improves life in multiple ways - energy levels, environment, and love life, brings clarity and prosperity, gives positive resolutions to all problems, and purifies the body, especially the heart and mind. It was once thought that if you took a diamond into bed with you, it would cure what ails you.
Wearing It
It is believed that the powers of a diamond increase when worn around the neck, or on the left hand.


Diamond Pendant Necklace l $12,875
18 karat white gold with diamonds. Round brilliant cut diamonds (G-color and VS-clarity) 2.47 carats. With 18 inch chain.
---
May / Emerald
History and Lore
The first known emerald mines were discovered in Egypt. The emerald was one of Cleopatra's favorite gems and claimed ownership to any discovered. Ancients Greeks associated the gem to Venus, the goddess of love and beauty, and the Ancient Romans dedicated it to their goddess Venus as well. It was said to protect against unfaithfulness - if a lover was loyal, the gem would be a beautiful green color, but if not, it would turn a different, lifeless color.
Benefits and Uses
Brings good fortune and truth, improves vision, memory, intelligence and intuition, helps sinuses, detoxifies negative emotions, gives a sense of security, harmony and closeness to God, and prevents against infection and diseases.
Wearing It
It was believed that if an emerald hung from the neck or worn in a ring it would deter sickness.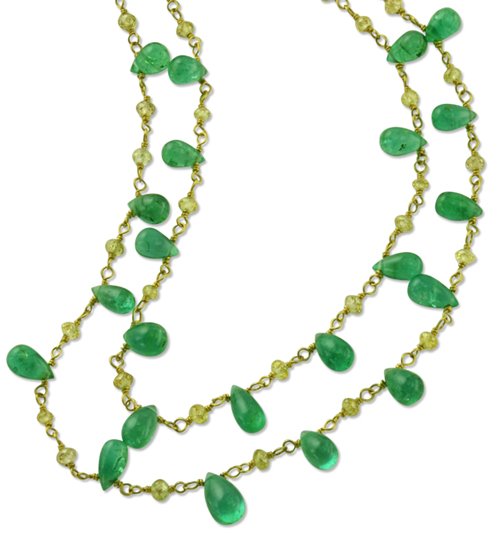 Emerald Briolette Necklace l $4,500
One-of-a-kind 18 karat yellow gold with brown diamond beads and emerald briolettes. Total weight of emeralds 22.50 carats. Brown diamonds weighing 5.47 carats. Inside 16" outside 17 1/4". 
---
June / Pearl
History and Lore
Cleopatra was also a fan of pearls. It was said she used them to keep her young and beautiful as it was believed to be the main ingredient of an "immortality elixir." The ancient Greeks believed that pearls were the hardened tears of joy from Aphrodite, the goddess of love so the pearls gave prosperity in love and marriage.
Benefits and Uses
Provides a sense of calmness, promotes prosperity, faith, loyalty and truth, enhances personal integrity, treats digestive disorders, increases fertility, eases childbirth, protects youth, beauty and healthy skin and is widely considered to be effective against rosacea and acne.
Wearing It
The oldest surviving pearl necklace is nearly 2000 years old. In addition, it was rumored that Queen Elizabeth the 1st wore layers of pearls that reached down to her knees. 


Akoya Pearl Necklace l $2,250
AAA quality Akoya pearls with 18 karat white gold clasp. 53 pearls(7.5mm x 8mm). 18 inch long.
---
July / Ruby
History and Lore
Rubies have been considered the most precious of the colored gemstones since ancient times. Ancient Hindus referred to it as "the king of gems," and royalty used ruby to ward off evil. They believed the ruby would get darker in the presence of evil and lighter when the evil was gone. In Burma (now called Myanmar), warriors inserted rubies into their skin to make them invincible in battle.
Benefits and Uses
Removes negative energy, helps overcome exhaustion, used to treat fevers, infectious disease and restricted blood flow, promotes positive dreams, clear visualization, aids in retaining wealth and passion, attracts sexual activity, and can assist in settling disputes.
Wearing It
Elaborate ruby earrings have been a popular jewelry choice in India for centuries. As a symbol of passion and love, rubies are a great romantic gift.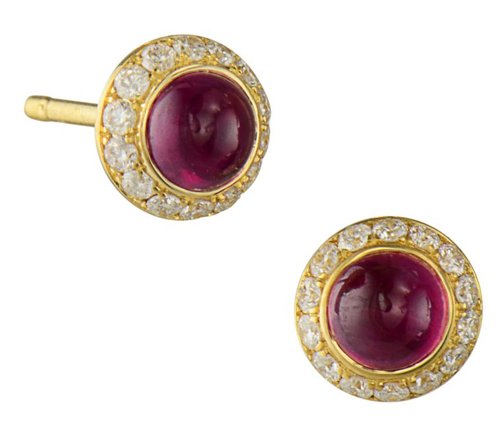 Ruby Stud Earrings l $3,050
18K pair of yellow gold stud earrings decorated with diamonds and a ruby. The total carat weight for the diamonds is 0.14 while the rubies are 0.84 CTW. 
---
August / Peridot
History and Lore
History shows that Egyptians mined a beautiful green gem on an island called Topazios, (now known as St. John's Island) for the pharaoh's treasury. Any watchers or trespassers of the island were put to death. The gems could be found after nightfall due to their radiance, forcing miners to work at night and day to retrieve them. From this, it is believed that Cleopatra's emerald collection might have been peridot as it was often confused with emeralds.
Benefits and Uses
Peridot is known to be a strong aid to emotional health for depression, balancing bipolar disorder, dealing with guilt and jealousy, helps let go of past mistakes and attain your full potential, strengthens the immune system, increases metabolism, benefits the skin and treats fevers, brings happiness, and attracts romance and friendship.
Wearing It 
Back in ancient Roman times, rings of peridot were worn to relieve depression. Legend says that if the gem is set in gold, it will develop its full potential as a talisman and will have the power to prevent terrors of the night, fears, and bad dreams.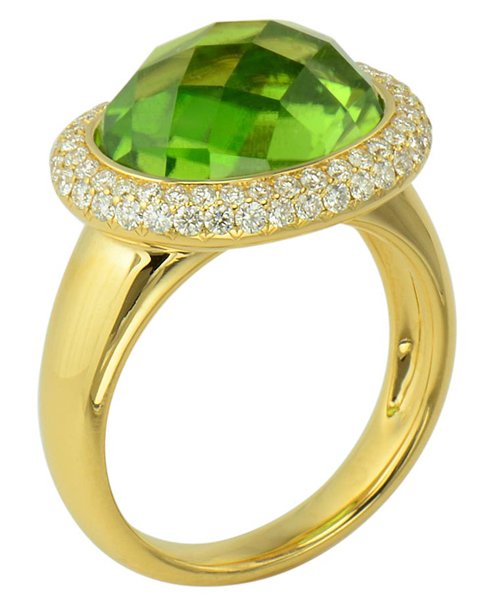 Peridot and Diamonds Ring l $6,475
18 karat yellow gold ring with cabochon, checkerboard-cut Peridot and pavé-set diamonds. Peridot weighs 8.50 carats and round brilliant cut diamonds weighing 1.23 carats. 
---
September / Sapphire
History and Lore
As it is known today, the sky is blue due to the reflection of the oceans, but rulers of ancient Persia believed the sky was painted blue by the reflection of sapphire stones. In other cultures, it was a symbol of the heavens and attracted heavenly blessings. In ancient Greece and Rome, royalty was convinced that blue sapphires protected their owners from envy and poisoning.
Benefits and Uses
Brings fulfillment, joy, prosperity, and beauty, prevents illness, provides protection and self-improvement, helps with concentration and focusing, treats blood and cellular disorders, and opens your spiritual self to powers of the universe.
Wearing It
Kings wore sapphires around their necks as a powerful defense from harm. They preserved the wearer from envy and attracted divine favor.


Round Sapphire Pendant l $3,650
An elegant round shaped pendant with black rhodium, blue sapphires, and bright diamonds. 18K white gold pendant with blue sapphires that weigh 2.86 carats and diamonds that are 0.54 CTW with a 16 inch chain.
---
October / Opal
History and Lore
Opals were once ingested in a ground-up powder to protect against nightmares. Arabic legends believed it fell from the heavens in flashes of lightning. Ancient Greeks believed opal gave gifts of prophecy and guarded them from disease and other cultures believed it preserved the color of blonde hair. Throughout all of history, opal has been regarded as the luckiest and most magical of all gems because it can show all colors - except during the 1800. Sir Walter Scott wrote the book, Anne of Geierstein and created a superstition that it was unlucky for anyone to wear an opal if it wasn't their birthstone. Eventually that was dismissed.
Benefits and Uses
Strengthens memory, traits, self-esteem, and self-worth, increases the will to live, helps you understand your full potential, stimulates spontaneity and creativity, treats infections and fevers, cleanses the blood and kidneys, eases childbirth, alleviates PMS, and teaches karma – what you put out is what you get back.
Wearing It
In ancient times, opal was worn as a jewel to ward off evil and improve vision.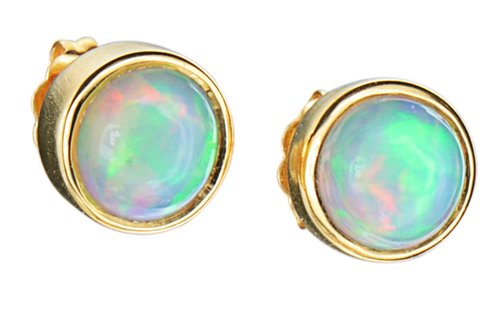 Opal Earrings l $1,000
14karat yellow gold earrings a pair of round Ethiopian opals weighing 1.85 carats, 7mm diameter. 
---
November / Citrine
History and Lore
The first civilization thought to wear citrine were the Romans and was used extensively during the first and second centuries in Greece and Egypt as a talisman against evil, overindulgences, treachery, scandal and slander. Ancient cultures deemed it the "stone of the mind" and believed that placing a citrine on the forehead of an elder would increase his psychic power.
Benefits and Uses
Draws all good things in life including mentors and friends, heals the spiritual self, provides clarity, a positive attitude, peace, and energy, helps to overcome depression, fears and phobias, improves communication skills and emotional reactions, reduces stress, negativity, and anger, and aids in holding on to your money.
Wearing It
During the Art Deco period, large citrines were set in many prized pieces, including pieces made for big Hollywood stars such as Greta Garbo and Joan Crawford.


Lemon-Lime Citrine and Diamond Pendant l $6,700 (pendant only)
18 karat yellow and white gold, custom-cut Citrine weighing 7.46 carats and 32 diamonds weighing 0.26 carats.
---
December / Turquoise
History and Lore
Much like others of the most valuable gemstones, Egyptians believed to be the first to mine it and adorned themselves with turquoise jewelry. Turquoise is the national gem of Tibet and has long been consider it to bring health, good fortune, and protection from evil.  Ancient practitioners believed that turquoise would change color when the wearer was ill or in danger. Cultures that most valued turquoise were Native American tribes. The Navajos believed that turquoise is a part of the sky that fell to Earth. The Apaches believed that turquoise attached to a bow or firearm increased a hunter's or warrior's accuracy. Southwest Native American tribes used it as a ceremonial gem and medium of exchange. 
Benefits and Uses
Relaxes the mind, offers protection, promotes leadership, helps avoid unwise investments and overcome writer's block, aids in clear and truthful communication when giving information, enhances the immune system and regeneration of tissues, alleviates cramps and pain, and detoxifies the body.
Wearing It
It is a powerful stone to wear for protection, and Turquoise necklaces may be very effective to aid in your overall health and prevent bronchial attacks.


Jaipur necklace by Marco Bicego l $2,310
18 karat yellow gold with bezel set turquoise. 16 1/2 inches in length. 
---
*Information in regards to the benefits and uses of birthstones are not intended for medical advice and have not been verified by physicians. Powers are assumed by different cultures and people - they are not guarenteed to work.