Just like adding statement earrings and a beaded clutch to tie together an outfit; filling your home with trinkets and accessories is a great way to add color and vibrant personality. In the beginning stages of furnishing a space, invest in your quality large furniture pieces or framed art to ground your space. Remember, these items should be bought to last and can be reupholstered, restained or reframed over time if desired. Next, buy less expensive accessories that can be changed out by season, trend, or a change of taste.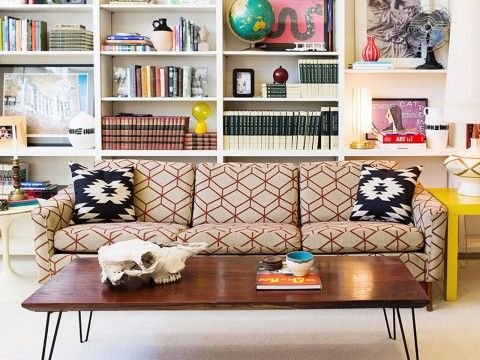 Here's what's trending now in home décor accessories:
• Loud bookends: Bookends have become a great way to add color and interest to bookshelves, while still remaining functional. Take these pink agate bookends for example. They would add a vibrant pop of color to a white bookshelf or could be used face down on a coffee table as a textural element.
• Whimsical floral pillows: Floral is a huge print trend this Spring; especially in fabric, accessories and wallpaper. There is a wide variety of floral print colors, scales and textures adapting to most design styles and aesthetics. These pillows from Pottery Barn are rich in muted hues with sophisticated prints and are a great way to bring a tranquil island vibe to your living space.
• Mod planters: As you can probably guess by this list, a huge trend this season is bringing the outdoors in with greenery and floral motifs. So it should come as no surprise that unique planters are in fashion. These planters from West Elm give off a very distinct mod retro vibe blending perfectly with any modern pieces you already own.
• Bold art prints: As an art connoisseur, there is nothing quite like an eclectic gallery wall serving as an excellent focal point for a room. Art prints are a great affordable way to check out new artists and bring unique pieces into your home. A great place to find prints are at local markets, etsy shops, or art.com.
• Eclectic side tables: Side tables serve as great places to rest a mug full of coffee and showcase a stack of collector magazines. A good rule of thumb is to have at least two coffee tables per space to serve multiple purposes. These Anthropologie side tables give off a very eclectic vibe and can be mixed and matched to pull together any space.
• Industrial lighting: Industrial pieces in interior design have been a trend for years, going hand-in-hand with the modern white-on-white rooms we crave. Industrial lighting looks great in a wide variety of spaces such as your ultra-modern kitchens and uber feminine bedrooms. Industrial pieces are great because they add toughness, edge and playfulness to spaces.