Wedding season is fast approaching. An engagement ring should be as precious and rare as the lady wearing it. As there are multiple jewelry stores in the greater Seattle area, going to every single one can be exhausting. Searching the web can result in flawed diamonds and what woman doesn't want to try on the glimmery brilliance shining off her fingers? Well that's why we are here. We want to make it easy for you with our pick for the best place to go and top rings for the type of woman you are.
Turgeon Raine, located in the heart of Seattle, carries everything from traditional princess cut diamond rings to non-traditional pink diamond designs. The selection is luxurious and unique with a mix of their own styles in addition to international designer options. Find a design that fits your taste and personal aesthetic. Below you will see dreamy rings that are simply dazzling; this is just a taste of their curated selection. Each one of their diamonds is hand-selected and comes with a GIA Grading Report Certificate for an unbiased and accurate determination of cut, color, clarity and carat weight. Not mention their prices are competitive, but let's be honest, an engagement ring is simply priceless.
It is the perfect non-traditional engagement band. The emerald cut natural fancy pink diamond sets this modern day classic apart from the rest. Although the design can be altered to white or yellow gold, I think the rose gold is my personal preference; it compliments the rosy diamond tint and looks like it's made for a princess.
This ring offers a vintage feel with intricate scrollwork and a mix of fine textured ridges creating fantasy inspired swirls. Its delicate and slender silhouette does not take away from the beauty of the stunning metalwork. It has just the right amount of glitz and in this particular design; the center diamond is the star.
One hundred sixty-five diamonds topped off with a royal peacock colored tourmaline stone, a ring fit for a queen. The 16-prong and triple shank set holds the tourmaline perfectly to be seen by all its admirers. This bold ring has a mix of platinum and 18kt yellow gold to match all your precious jewelry pairings. This option is for the lady that loves luxury.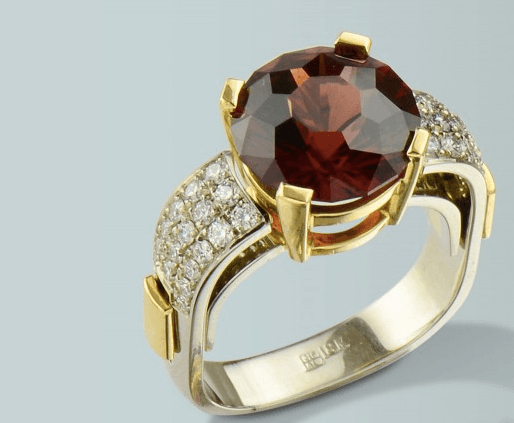 Fierce red, this round malaya garnet exudes power in a very dramatic way. The white and yellow gold mix and wide cut band create a bold setting for the precious stone. Three rows of glittering 34 round brilliant cut diamonds run down each side of the band for a very glam appearance. This is definitely a strong statement ring for the lady that wants to stand out.
This ring catches light at every angle. Its delicate design is feminine with metal work that curves and weaves around the band. The 18kt rose gold band is lined with 25 round cut diamonds. It's understated but the perfect ring for a lady who wants a stunning yet slender option.