We have the guide to make Valentines Day shopping fun and easy. Find her personality type below and get inspired to surprise her with something new this year.
The Health Conscious Lady
1. Victoria's Secret // Sport Essential Gym Bag $89.50
If your lady throws all her clothes and gym accessories in a reusable tote, you are going to change her world with this bag. The Sport Essential Gym Bag has different compartments for her shoes and two mini zip pouches for her jewelry and dirty laundry. It's machine washable and will carry all her must-haves for the gym.
2. Tory Burch // Fit Bit Bracelet $175
If your lady is part of the fit bit craze, then she'll appreciate this thoughtful gift. Although she has a busy life and enjoys her daily workout sessions, she wants to be polished and put together. This leather wrap fit bit bracelet will have her feeling chic and like she has a sense of control over her day-to-day craziness. Gift her with an accessory she secretly wants to get for her self.
The Ultimate Fashionista
3. Dolce Vita // Lace-Up Sandal $119.95
There is nothing sexier than a corset inspired shoe. She will love the luxurious feel of the suede and the on trend lace up style. This flirty heel will be worn on date nights and special events with the ladies. Complete her wish for a powerful color to add to her shoe collection.
4. J.Crew // Crystal and Pearl Studded Cuff $88
Why not spoil her with a piece of jewelry she wouldn't normally indulge in purchasing for herself? This rose tinted cuff is a modern style she will wear often. A mix of the classic pearl and crystal stud on a Lucite base will have her feeling like she's wearing a special piece right off the runway.
The Seductress Woman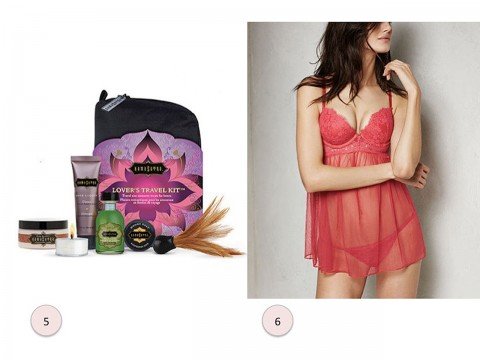 5. Kama Sutra // Lovers Travel Kit $38.99
Keep it hot in the bedroom with this kit to seduce and experiment together. If you also plan a getaway for Valentine's Day weekend this could be the perfect addition to your intimate time for two. There is a tea light candle to set the mood and 4 travel size products for you two to play with. Discover your favorites and know exactly what products to use more often.
6. Victorias's Secret // Eyelash Lace & Mesh Babydoll $68
Women always want to look sexy for their man and tend to purchase lingerie for their own personal taste and style. Valentines day is your turn to find a little sexy something you'd love to see her wearing in the bedroom. This lacy lingerie is tempting with it's sheer silhouette. There are 3 colors for you to pick from, choose the one that you find most tempting!