Put down your cell phone and look up to the light. Lose yourself in the mix of street style, dance and acrobatics. Find yourself in the message of Cirque du Soleil's VOLTA; a story of self-discovery by getting back to the root of creativity.
Now until November 4th, Seattleites can experience another amazing wonder of Cirque du Soleil at Marymoor Park. As a seasoned Cirque du Soleil fan, much like others before, this is one that you don't want to miss. Last year, LUZIA achieved the first traveling ever water show inside its massive tent and this year performers deliver some incredible feats I have never seen before.
If you know Cirque shows, then you know each one usually carries a performance theme – may it be in the music, setting, or stunts. For example, LOVE is to the sound of The Beatles, O (and LUZIA) is aquatics, and KÀ is martial arts.
VOLTA focuses on both stunts and setting. The word "volta" translates into "a sudden change, an about face" in Latin and refers to high voltage. Combining those together is what inspired this show street sports with the spirit of adventure. Each stunt keeps you holding your breath on the edge of your seat and released with a sigh at the end of safe completion.
However, VOLTA isn't just about the awesome performances, it also conveys an important message that has gotten lost through the world of technology and desire of fame. It reminds us that what we think we want based off what we see may not always be what we need to become who we hope to be.
VOLTA begins by transforming the audience into the audience of the MR. WOW SHOW. We are introduced to MR. WOW, the judges, and show contestant, WAZ, eagerly looking for their love and acceptance of his talents in hopes of fame. WAZ showcases his dance moves against incredible rope skipping abilities combining light and action for a fast-paced acrobatic show.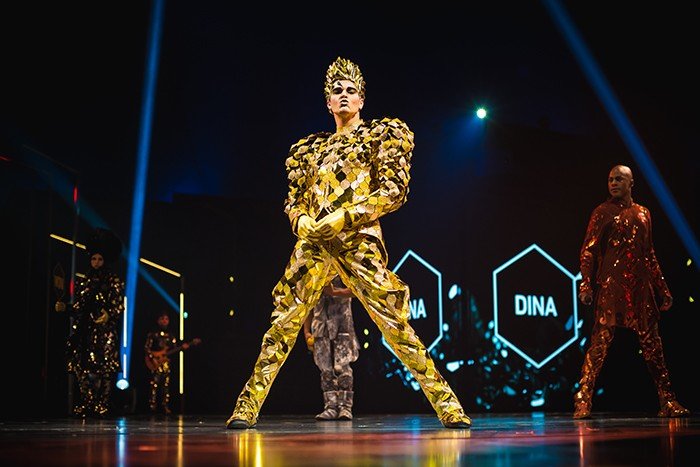 Even with proving his skills and the show providing the promise of fame, WAZ still finds himself still in search of self-satisfaction from everyday life – literally. Found wandering by the FREESPIRITS, he is taken back to his childhood dreams.
FREESPIRITS inspire those who have lost self-identity to the monotony of work life. They jump off of the walls to spread the word, like graffiti taking over the city and showing the beautiful art of the people. ELA leads WAZ's journey while performing a one-on-one unicycle act with a gorgeous display of colorful costumes and strength.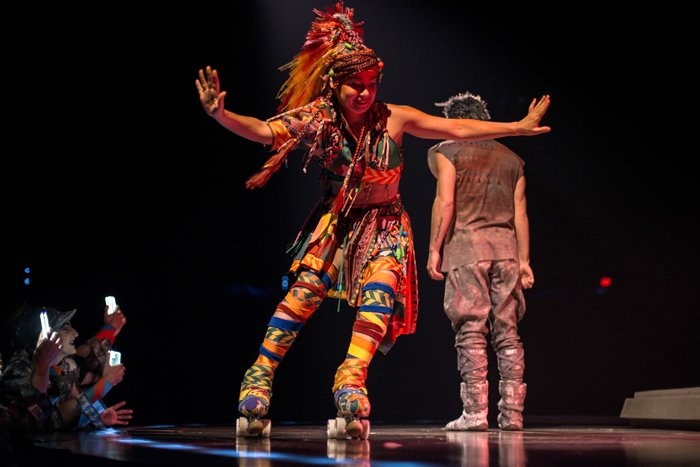 As WAZ brings us back through his memories, he recalls the beautiful vision of his Acro Lamp flight during his younger years. WAZ conveys his childhood feelings of freedom as he majestically swings into the illumination of light. Another memory creates a stunning visual memory of his mom and learning how to ride a bike. It's a unique dance combination of a ballet dancer mirroring the acts of a BMX rider.
As the journey continues, the FREESPIRITS continue to encourage WAZ through thrilling sensations of highflying ring gymnasts suspended from a bridge and surprising bungee artists falling from the sky. They lead us up into the jungle and out of the dull city through ladders that support aerial artists acrobatic escape swinging past our heads. More talented FREESPIRITS jump through geometric hoops towering into the sky with moves to break down the beat.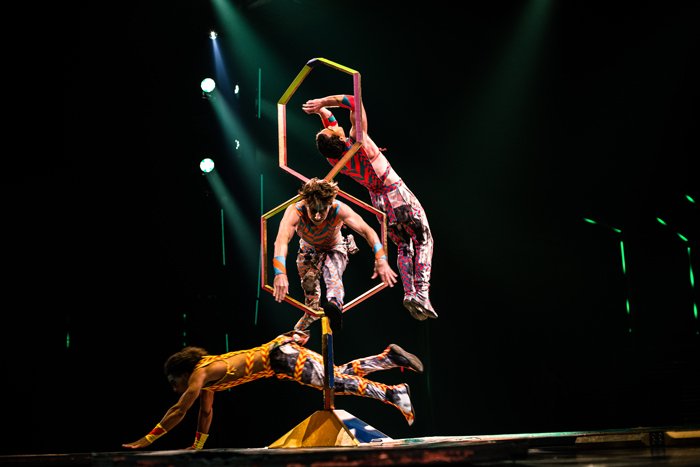 But perhaps the most stunning imagery was that of the hair suspension artist. Watching this incredible woman levitate through the strength of her hair is an experience you won't soon forget. Grace and beauty are the embodiment of this act as well as an underlying theme of strength.

WAZ's journey finally guides him to his true self. He shows us his new view of life through creative dance interpretation and expression of liberation and freedom in his newfound space.
VOLTA ends in a culmination of BMX extravaganza (photo above). Hang onto your seat as half pipes appear on the stage and bikes come flying towards the audience in highflying multi-bike acrobatic air tricks not often seen this close. I guess it's easy to say those FREESPIRITS know how to party.
Make sure to get your tickets to this awe-inspiring experience and don't forget its message – don't get lost in everyone else's life, instead find the way to be true to yourself.
Want to see more? Check out our gallery of the show!