October is Breast Cancer Awareness month and many brands have created pink products to continue supporting the cause. This month let's continue coming together to help find a cure. During your fall shopping excursions, keep in mind that your purchases can also make an impact and raise money for many different breast cancer organizations. It's easy to contribute; simply change the products you normally purchase for one that supports Breast Cancer. You can choose from hair products, beauty essentials, jewelry, clothing, and even sportswear to show off your pink. A percentage of the sales from the special packaged products will go back to various organizations including the Breast Cancer Research Foundation, Susan G Komen Foundation, and more.

Missoni – Key to the Cure Tee $35
This crew neck, chevron print tee can we worn countless ways. The colors are fall appropriate with a mix of marigold, burgundy, purple, and navy. This comfy piece will be your new casual favorite. On the back of the tee there is a detail that makes this distinct with a heart, a key, and the Missoni logo. It's such a special top and a great gift idea too. The best part? 100% of the gross sales will be parted to twelve cancer research organizations.

Bumble and Bumble - Thickening Spray $29
This prestyling spray is used for blow-drying your hair and adding some that extra volume you so much desire. It's lightweight and perfect for fine to medium hair. All of us can use the extra help to make our hair look healthy and full. 20% of each purchase will go to the Breast Cancer Research Foundation.

New Balance Shoes – Lace up for the Cure $29 - $144
Need new workout gear? Get your pink on with New Balance's Lace Up for The Cure product line, and shop from tennis shoes, pants, and tees. You can purchase a whole outfit to support the cause. New Balance has been an avid supporter of the Susan G. Komen Foundation for over 27 years, and this year 5% of the sales will go directly to their organization. Their dedication is shown through the effort to create a whole line that is stylish and at an affordable price point.

Chamilia Bracelet – Brave & Strong charm $45
The 'Brave & Strong' charm bracelet makes a memorable gift option for yourself or someone who has gone through a difficult time. It's a good reminder for anyone special in your life. The piece can easily be layered with other bracelets and makes for an everyday kind piece of jewelry. Each one has four rose Swarovski crystals for a touch of sparkle.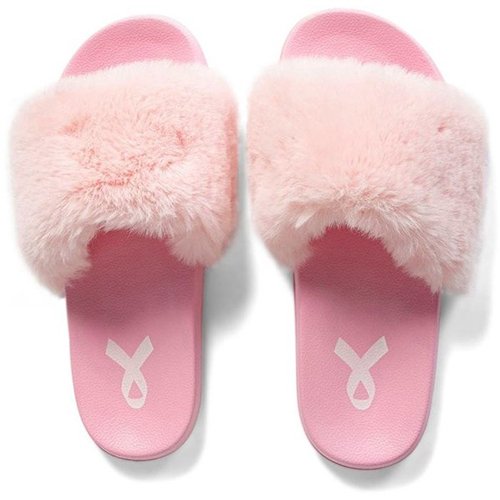 Forever 21 – BCA Faux Fur Slides $19.90
If you've been waiting to try the fur slide trend, it's perfect timing. These limited edition slides are just calling your name. They are comfortable, can be worn around the house, out of the house and support a good cause. $1 of each purchase will go to the Keep a Breast Foundation. Must add this one to your online shopping cart too!