photo: Salish Lodge at Snoqualmie Falls by John Westrock via Flickr
If there's one thing we can count on this winter, it's Seattle's rain. But, the beautiful thing about precipitation is that a drop of a few degrees and a rise in elevation transforms that constant drizzle into a floating, ethereal delight of white. With mountains encircling us, snowy escapes are waiting at our doorstep – you don't have to go far to get away. Here's a list of 4 spots within a 4 hour drive that you won't want to miss this season.
NORTH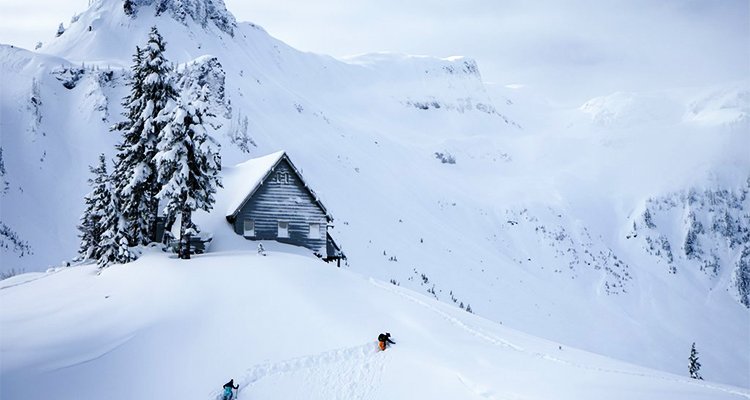 Bellingham / Mt. Baker
Driving distance: 1.5-2.5 hours
photo: Artist Point Snowshoe by Sarina Clark
What to Do
Snowshoeing (or snowmobiling). Mt. Baker holds the record for most snowfall in a single season (95 feet!) and offers countless snowshoe trails off State Route 52 – Artist Point is one of the popular destinations and doable for beginners. Icy waterfalls, fairytale-esque forests, layers and layers of scenic views, and a breathtaking alpine sunset await you. Thrill seekers might be more interested in the snowmobiling paths there, but they're only allowed when the road systems are closed to vehicles and there is sufficient snow pack (2 feet).
Where to Stay
Warm up after the mountain by settling in at the Chrysalis Inn and Spa. It sits on Bellingham Bay and offers panoramic views of the Salish Sea. After a day of trekking the snowy slopes, make sure to schedule an appointment for a Swedish massage - your body will thank you as you relax in luxury and ease your aches away.
Where to Eat
Just a half mile away from the inn, check out Magdalena's Creperie for some delicious sweet and savory dishes. Aside from crepes, this polish-inspired café also makes their own pierogies that are the epitome of comfort food.

EAST

Snoqualmie Pass
Driving distance: 1 hour
Photo: Summit at Snoqualmie
What to Do
Tubing/sledding at Summit Tubing Center. This isn't just for little kids. The snow here is a little wetter than other places, but this makes for a perfect, slick surface for sledding. Try it out at night for an unforgettable experience of fun and adventure.
Where to Stay
Escape the bustling city life and feel eons away from the Seattle skyline by staying at the Salish Lodge, which offers incredible view of Snoqualmie Falls. While you're here, try out the Couples Fireside Honey Spice Tea Scrub, which uses honey from the Lodge's honeybee hives perched on the hillside overlooking the resort.
Where to Eat
No need to leave the building because The Dining Room at Salish Lodge offers some of the best brunch in town. Their on-site garden and honeybee apiary provide some of the ingredients to their delicious dishes. Try their famous four-course Country Breakfast with the iconic "Honey from Heaven" service where honey is drizzled from high above your plate onto flakey homemade biscuits.
SOUTH

Paradise / Mt. Rainier
Driving distance: 2.5 hours
photo: Paradise Inn
What to Do
Horseback riding. Check out EZ Times Horse Rides in Elbe, WA – they offer horseback riding all year around with experiences guides and horses familiar with the trails. There are several trail options to explore the dense forests of the foothills or ride alongside rivers and streams. You can even take a sunset ride.
Where to Stay
If you love rustic charm, you can't miss staying at the Paradise Inn (it's celebrating its centennial anniversary this year!). Listed in the National Register of Historic Places, the hotel continues to attract visitors all year around. Enjoy huge fireplaces, exposed timber, spectacular scenery, and an unbeatable location tucked away in the mountain.
Where to Eat
On your way to horseback riding or back to Seattle, stop by Copper Creek Restaurant for a quaint a cozy dining experience. Don't forget to grab dessert and try their blackberry pie.
WEST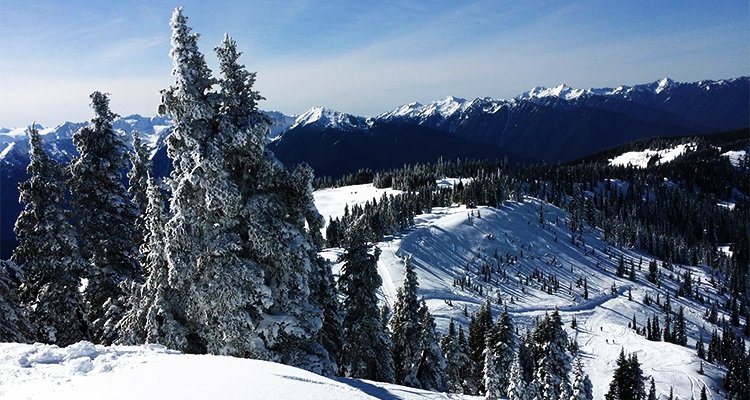 Hurricane Ridge
Driving distance: 3.5 hours
photo: Hurricane Ridge Ski and Snowboard Area
What to Do
Skiing and snowboarding - Hurricane Ridge Ski and Snowboard Area is an affordable, smaller snow destination that won't be super congested like other popular ski areas. For only $58, take a private lesson to improve your skills and get the most out of your snowy day. The drive up is also noteworthy and gives some of the best views of the Olympic Mountains.
Where to Stay
Unless you want to camp in the National Park, drive down route 101 to get to Lake Crescent Lodge, a turn of the century resort tucked away among huge fir and hemlock trees. There are several day hikes nearby, but you can also just stay cozy inside and take in the crystal clear water of the lake – in some places you can see as far down as 60 feet!
Where to Eat
For a quick and casual bite to eat, check out Toga's Soup House in Port Angeles. The Victorian house turned restaurant is a perfect lunch spot and has yummy soups, sandwiches, and salads to fill you up.