A couple months ago, I received an invitation to experience a night at Tulalip Resort & Casino. Up to that date, the only resort and casinos I stayed at were in Las Vegas at multiple spots on and off The Strip. I didn't really think Tulalip could live up to that kind of luxury and entertainment. Sheepishly I have to admit how wrong I was.
One Friday night, my boyfriend and I took the 45-minute drive to the one-night staycation. Not only did Tulalip Resort & Casino meet my expectations, but far exceeded them. From the hotel rooms to the 1AM Blazing Paddles pizza, it was an insanely fun night, and I can't wait to find the time to go back.
SLEEPING STYLE

The AAA Four Diamond Tulalip Resort offers guest rooms and specialty suites. We stayed in one of Tulalip's recently renovated guest rooms; a beautiful and modern 500 square feet spaces that made it hard to want to leave the room.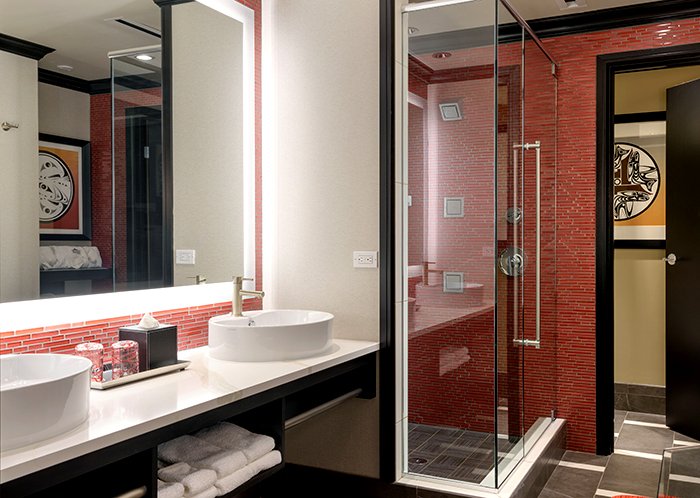 The bold red, espresso brown, black and white colors, smooth finished furniture and countertop, floor to ceiling windows, red iridescent tiles stacked on the bathroom walls all complemented the abstract tribal art hanging above the king size bed set the rich contemporary vibe.
The 4K OLED big screen TV, LED bedside reading lamps, and the clock lit up in the bathroom mirror showcased the room's up-to-date tech features. The hardwood walls, plush bedding and the separate sitting area provided the warm, relaxing feeling.
It didn't feel like I was staying in a guest room, but an upgraded city style downtown suite.
PARADISE ISLAND

Whenever I'm staying somewhere with a spa, the first thing I do is schedule an appointment. It's pretty much the only time I can at least one hour of no-distraction relaxation.
Tulalip's T Spa provided me that with a bonus 15 minutes of peace. I decided to try something new and booked the Balinese Massage while my boyfriend booked a men's facial – a first for him as well.
The Balinese Massage wasn't what I expected. Unlike traditional massage, I didn't get to choose specific areas to focus on or the amount of pressure.
The massage is based off of techniques with a very precise rhythm of movements from Bali (hence the name). It includes one of three choices of traditional Jamu Balinese aromatherapy massage oil.
It was a high and low between relaxation and energized stimulation. I could feel my circulation increased; my blood flowing through my veins like a wave slowing rushing through water. Once it was over, I didn't have the groggy, struggling to wake feeling as I do after most massages. I felt Zen and invigorated.
Afterwards I met back up with my boyfriend who was looking refreshed and mighty handsome. I could see a significant difference after the facial, which he said was a relaxing and enjoyable experience.
WINE & DINE
A New Destination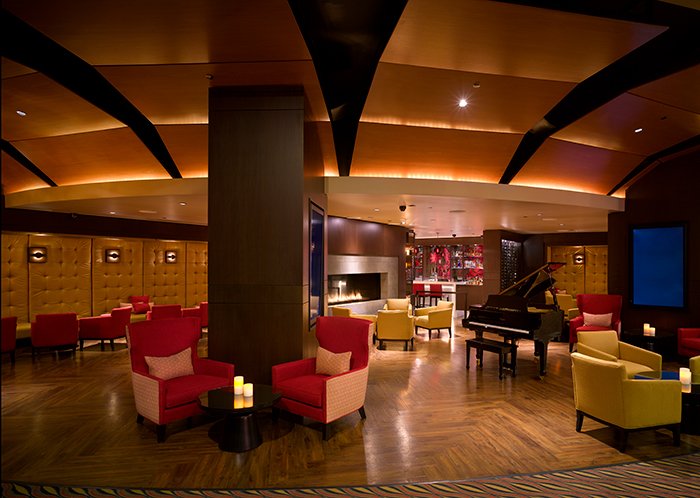 To kick off the night, we headed down to Tulalip's lobby bar to join our group for pre-dinner cocktails. The bar, Destinations, provides a swanky, posh, and intimate atmosphere. The bar and back area is set hidden behind a metal fireplace divider that ignites dancing flames above glass beads. Its large leather booths blend into the leather padded walls accompanied with red lounge chairs. The vibe is topped off with a grand piano and live jazz music playing on flat-screen TVs.
We were greeted with a platter of delicious apps, a variety of wine tastings, champagne including Dom Pérignon, and beer including Deschutes Brewery Black Butte Reserve XXlX. This delicious Bend, Oregon porter doesn't mess around with a 12% alcohol content swirled in chocolatey spice.
Something Fishy

Afterwards, it was time for more wine and fine dining at Blackfish, a seafood focused restaurant featuring regional Northwest ingredients and Tulalip traditions. One of those traditions is salmon pierced on an Ironwood stick and cooked over an open fire pit with Alderwood coals. The preparation makes the Alaskan Sockeye Salmon moist and tender served with grilled asparagus and corn fritter.
To enhance the flavor, Tulalip's wine sommelier, Tom Thompson, paired the meal with Dark Matter Howell Mountain Zinfandel from their Wine Spectator award-winning wine list. I was surprised how well and pleasant the red wine paired as I've always chose white wine with fish. For those who prefer beer over wine, the fruity oak and sour pale ale Deschutes Cultivateur Provision Aged Saison, brought out a subtle smokey flavor,
I tasted so many wines amongst the crab cakes, Caesar salad, and steak, I had to mark down my favorites so I wouldn't forget. My top picks was the Clau De Nell Chenin Blanc, Les Fontenelles as I prefer whites or reds in general.
Going Country
One way to stay entertained at Tulalip is on its 200,000 square foot casino floor with your pick of over 2,000 slots, poker, and tables including blackjack, baccarat, roulette, and craps.
But you don't have to be a gambler to enjoy your time at Tulalip Resort & Casino. If you're a music lover, comedy follower, or love watching sports at a really great sports bar, they have it all.
What makes their entertainment venues special is that each offer an intimate encounter. The 1,200 capacity Orca Ballroom, (where we watched Diamond Rio), allows you to actually see the performance with your own eyes versus only having a clear view from a big screen.
Over the summer, Tulalip produces a summer concert series at Tulalip Amphitheatre. This year Melissa Etheridge & LeAnn Rimes, Styx, and Creedence Clearwater Revisited, Blue Oyster Cult, and more are scheduled to perform. Make sure to check out the event calendar for upcoming events and tickets.
Last Call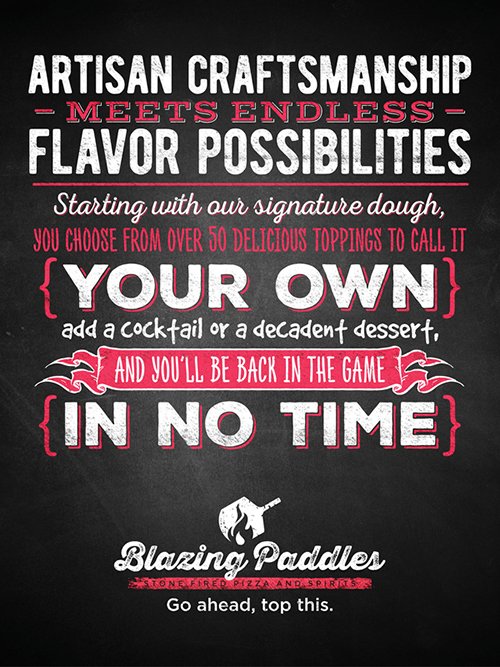 We made our final stop at Blazing Paddles for an after midnight snack of Say Cheese! and The Ultimate Meat Treat pizza pies and one last drink. It was time to call the amazing and unforgettable night to an end, and make plans to do it again.
If you are looking for a short-distanced getaway with a significant other or a group of friends, this is perfect spot. But if the 45-minute drive seems too long, then have the Tulalip Luxeline pick you and drop you off for only $10.
So, take the gamble and go… what do you have to lose?